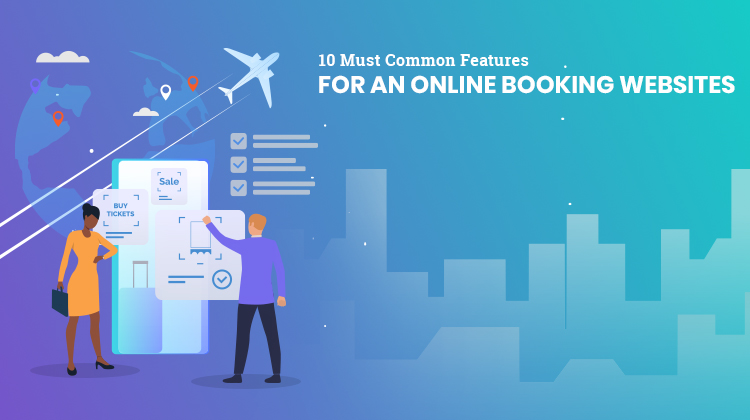 23 Sep,&nbsp2019
Today, with the online booking websites available, the users can book tickets, accommodations, and other services with just a few clicks. The modern tools and techniques make it possible to create these online booking websites that provide optimum facilities. Creating the website is easier than maintaining it and sticking to the competition level. Hence, choosing a web development company is, no doubt a tricky task. Not anymore when you know the features, your website requires incorporating. Here are the ten essential features for an online booking website. Discussing the same with your web developer will not only make the website easier to create but will also help you to maintain it in the long run.
1. Availability Calendar: An availability checker calendar helps you to show the availability status and helps the buyers to find the most suitable dates. It makes booking fast, easy and more convenient for your customers.
2. Property Images: You need to incorporate interesting images that highlight your service or properties. Images play a crucial role in impressing your customers. When your customers see the images, they are more assured about the service.
3. Verified Details: Whether it is an online ticket booking website or a travel website development company, you need to be careful with the details you provide. Verified information helps the customers to choose the best offer among many.
4. Easy Search: You need to create a website that is responsive to multiple devices like smartphones, tabs, laptops, and desktops. The easy searching facility is crucial in making your website more user-friendly to a huge number of customers.
5. Multiple Payment Options: While booking website development company, ensure that they know how to add multiple payment options in your booking website. This feature is mandatory when you want to provide booking access to a larger number of people.
6. Offers and Discounts: It is an important part of the sales strategies. When you give exciting offers and discounts, the customers are more likely to avail your service while there are many websites. Also, you can give gift vouchers for each booking.
7. Language and Currencies: When you want to make your website accessible to global customers, you need to add multiple languages and currencies. These features add more value to your booking services than ordinary ones.
8. Real-time Booking: The sole purpose of an online booking website is to make booking easier and faster. Hence, you need to make a website where the buyers can book online with minimum clicks rather than emailing and calling.
9. Email Automation: Automated emails help you to send booking confirmations payment requests and arrival information faster. It saves you from the hassle of write confirmation emails each time there is a new booking.
10. Third-party Integration: You have loads of data to manage, and this one helps you to do it in the most organized way. A third-party integration, coupled with financial management systems helps you to manage the financial data as well.
While booking website development company, the above features need to be checked to ensure a complete service. If you are searching for a web development company for your online booking website, here you go. We, Idiosys Technologies, are one of the highly acclaimed names in the world of web development. With a team of highly skilled and experienced professionals, we strive to provide each of our clients with a customized service that suits their needs and budget. We have a huge number of reputed clients from UK, USA, Australia, Canada, Panama, and India. Once you hire us for your online booking website development project, we will ensure that the website contains all these essential features. To know more about our services and packages, feel free to contact us today.