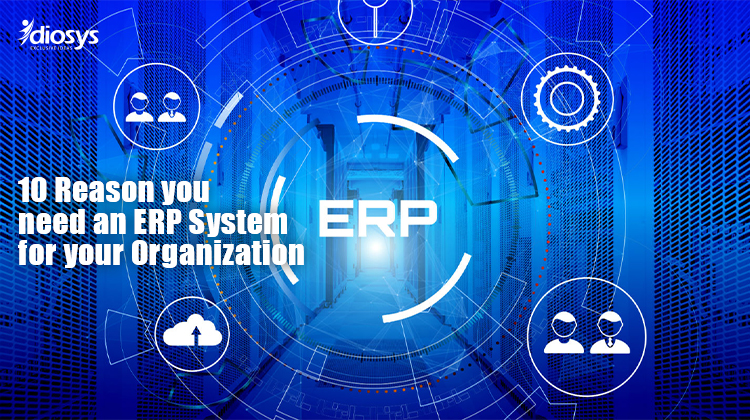 27 Jan,&nbsp2020
Today, the business entrepreneurs are looking for more advanced systems that can lend their businesses immense facilities to achieve nothing but excellence. Gone are those days when access to these technologies were limited and one had to spend a huge amount for the same. In 2020, ERP software development has made a successful launch in the market and the enterprises do not have to invest a lot to access it. One of the latest technologies is the all new ERP system, which makes business management way more easier than before. Here, we will know about 10 reasons why you need ERP system for your organisation in 2020. So, let us begin with a thorough understanding of the ERP system. Then, we will proceed to the features and facilities of these systems that can work for your business.
What are ERP Systems?
ERP or Enterprise Resource Planning is a system that can help you plan the resources in your organisation, be it a start-up or a big enterprise. These systems are usually centralised and then can track the entire resource related data within your organisation. Within an organisation, there are multiple functions such as the HR, planning, procurement, sales, customer relations, finance or analytics, and many more. These systems can help you to plan and organise all of these with minimal chances of error. When you can keep a track of all the resources and also plan the resources using a software, what is the need for manual calculations that are outdated? Besides saving your time and budget, these systems also help you to get the most accurate data. You can hire a software development company for the same service.

1. Saving Budget: One of the most essential functions within any organisation is to plan the budget and save it too. Now, when it comes to installing the applications and software, the budget becomes a problem. Not anymore as today the ERP systems can help you to save the budget in the long run by helping you to organise your management resources.
2. The Integration: The ERP systems help you to share and edit data and also to improve the security and access of your programs. As you don't have to merge data from several systems, the program becomes much more organized. The ERP helps you to share and store data in a single software.
3. Create Reports: You have to create reports in your organisation. Starting from the income to expense reports and the customized reports too, everything is easier when you have an ERP system in your organisation. It will definitely help your organisation to make quicker and better decisions in future.
4. Increase Productivity: When it comes to make the best of your resources, am ERP system will definitely help you. With the software, you can easily plan the workflow within all ongoing projects and hence, increase productivity in your workspace.
5. Productivity Control: As you can increase and improve productivity, you are already in a better position to control wastages. You can make more improved decisions based on information rather than guessing about the process. By doing so, you can have a better control on the productivity than ever before.
6. Data Security: As you have the ERP system, you can store your data securely in an authentic system. If you store data in other systems such as the Excel files, there are chances of data loss. Having an ERP system reduces the chances of data loss and helps you to track data anytime needed.
7. Overall Efficiency: In your organisation, a single integrated system improves the overall efficiency. When all the above points are correctly maintained, improving efficiency is no more a difficult task. Hence, improving the operational efficiency is quite simple and easy after you install an ERP system.
8. Customer Satisfaction: If you can improve the productivity and therefore offer a better service to the customer, satisfying them will not be a difficult task to achieve. You can communicate with the customers in a better way through every stage of the production process as well.
9. Expansion: If you are planning to expand your business by opening a new branch, it requires a huge plan. When you have the ERP systems in your company, you can easily change the business model or add new location in these systems. There is no need for further costly systems as it is a one-time investment.
10. Performance Management: Sometimes, it becomes difficult for the management to track any specific performance or the overall performance of an organisation. The ERP systems help the management in doing the same as everything is already stored in the system. As a result, it saves the valuable time and effort of the management in an organisation.
Are you looking for a reliable enterprise software development service for your organisation? If yes, then you are at the right destination. We, Idiosys Technologies, are one of the highly reputed names in the field of software development, web development, app development, business development, digital marketing, and many more services. With a team of highly skilled and experienced professionals, we have earned some of the best clients from every part of the globe. We provide software development services that are low on the budget and yet high on the performance. To know more about our services and packages, feel free to contact us.