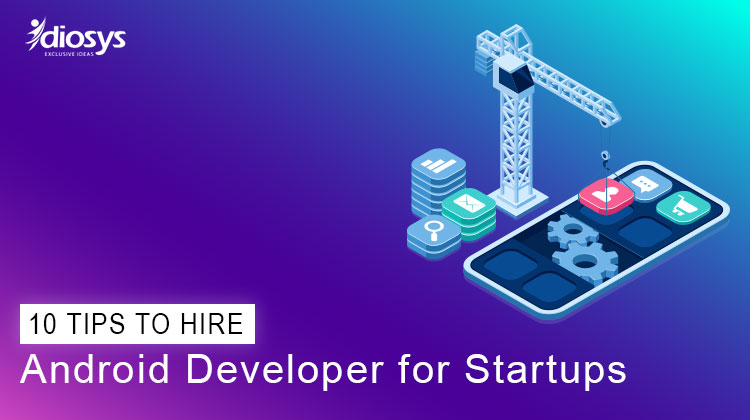 08 Dec,&nbsp2020
You can boost your business growth by hiring an Android app development company. Since Android is one of the most popular OS across the globe, there is a higher scope of being reachable to the customers. However, developing an Android app is not as easy as it seems and only the experienced developers can show you the road to success. An Android app needs to have an attractive UI and smooth functionality and therefore, only the best Android app developers can be relied upon.
We know how time-consuming it is to find the perfect app developers for an android app. You need to consider certain aspects while selecting them wisely. Here, we will explain to you 10 tips to hire Android developer for startups. If you own a startup company and looking forward to building a business app, here are the tips you need to follow. So, without any further ado, let's move to the 10 useful tips.
1. Look for the Experts: Developing a fully customized and personalized app can be a tricky task. Of course, it needs to be done professionally. Amateur developers sometimes fail to meet all your requirements. Therefore, look no further than the experts as you can absolutely rely upon their experience. You can consider hiring developers from India to expect expert solutions with a low budget.

2. Set your Budget: Many organizations hire developers just because of the low costs and get the worst services. Hence, don't fall in the low-cost trap while setting your budget.

3. Know the Experience: You need to know the past projects of developers to understand how much experience they have. Also, you can understand their approach and quality of their apps by looking at their past projects.

4. Innovative Approach: Improvisation is the key to success most of the times. Hence, your developers must have an innovative approach in order to understand the business needs suggest to improvise on the design and the user experience of the app.

5. Knowledge of Open Source Platforms: Being an open-source platform, Android gives ample flexibility to developers to create an application that suits their needs. Hence, your developer must have a good knowledge of open source platforms.

6. Hire an Established Company: Rather than hiring the freelancers, you need to hire an established company when it comes to Android development. Working with a reputed company can be a cost-effective and safer way for your business app development.

7. Contact Previous Clients: This is a smart trick to know the overall service quality of the developers you are going to hire. To ensure a good quality service, you need to know how the developers treat their client after they get the project.

8. Privacy Agreements: You need to know about their non-disclosure and privacy agreements before you start working with the developers. You should always ensure the safety of sensitive business information and hence, the privacy policy is a must.

9. Know about the Team of Developers: Hiring a reputed company will not suffice your needs when the team of developers is inexperienced. Hence, you can talk to all the mobile application development team members to know about their work and designation in the company.

10. After Development Tasks: App submission, testing of the app, bug fixing and more tasks are there when the app development is completed. You can ask for a written agreement about the same from your developers to avoid any mismanagement of further tasks.
Above are 10 crucial points that you need to ensure before hiring an Android app development company for your business. To know more, you can feel free to get in touch with us. We at Idiosys Technologies take care of all these aspects in order to provide you with a successful business app. With a team of highly skilled and experienced Android app developers, we strive to provide each of our clients with a customized service that suits their needs and budget. Presently, we are one of the highly acclaimed names in the world of web and app development. We have a huge number of reputed clients from UK, USA, Australia, Canada, Panama, and India. Once you hire us for your Android app development project, we will ensure that the app contains all the above essential features. To know more about our services and packages, contact us today.