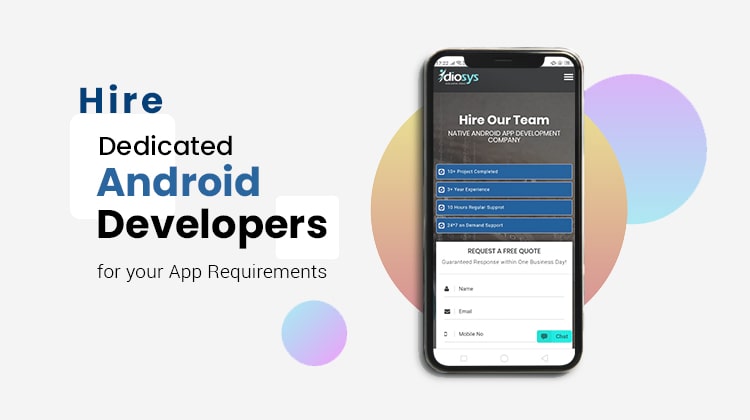 04 Jun,&nbsp2019
Developing a mobile app is one of the most advanced ways of making an online presence that would earn a huge profit to your business. Besides promoting your company in the global market, increasing sales and improving brand value are possible with a plethora of other benefits. Moreover, if you want to launch an e-commerce store or an online shopping store to sell your products, making an app would be a perfect idea as most of the online consumers nowadays use mobile phone more than any other device.
Android, being the most popular mobile platform, powers more than four thousand different Android devices, which are used by more than four hundred of Android device manufacturers. This gives you enough reason to think of only an Android mobile app to initiate the online marketing for your business. However, there are certain aspects that you need to consider while looking for an Android app developing company. Hire Android developer by checking the ten essential tips mentioned below and experience an excellent service that will earn you a huge profit in the long run.
1. Dedicated Android Developing Team: Opt for a company that shows dedication and ensures you an outstanding result. It is important to do a little research and then select the most potential Android developing team that shows higher expertise and skill.
2. A Balance between Quality and Pricing: We all know that cheap is not always good and Android app development is no exception. If you want a superior quality app for your business, never go for the unreasonably cheap offers as that might put you in trouble. According to our experts, your primary focus has to be on quality and not on the pricing.
3. Work Experience of Developers: Creating a business-oriented, user-friendly and market-centric customized Android application is not an easy task. Therefore, look for the highly-experienced developers that have earned a good reputation of working with the best companies. An experienced development team will also be able to plan and customized the app by making it the most suitable to meet your specific business goals.
4. Knowledge of Open Source Platforms: For developing an Android app, the developer needs to have thorough knowledge about the open source platforms like Android. Opt for a development team that has the idea and experience of creating a user-friendly customized app using open source libraries.
5. Innovative Approach of Developers: Android, being an open source platform, allows the developers the freedom to create customized apps. Hence, look for a development team that comes up with an innovative approach to improvise and modify the app according to your business goals.
6. Communication and Working Hour: If you are going to hire an overseas company, ask about their working hour and timeline. The development team needs to be specific about the deadline they mention and should be able to follow up with you regarding the work process. For the overseas companies with different working hour, fix a certain time when you are available for the communication.
7. Feedback of Previous Clients: It is very essential to know about customer reviews and testimonials before you hire an Android development team. You may ask the development company to provide you the contact of the previous clients so that you can communicate with the clients directly and know about their development process and certain aspects of their service in detail. You will also be able to know about the past projects of the development company.
8. NDA and Privacy Agreements: Mobile App Development company that provides you with an NDA or privacy agreement is a reliable one. For the safety purpose, it is always recommended by the experts to sign these agreements before the project begins. Even if you choose to hire a freelance developer, ask for an agreement first.
9. Company Certification: If you want to make your investment go in the right direction, hire a reputed and certified Android app development company. In fact, the safest and most cost-effective way for getting your app developed is by hiring a professional and certified development company with its own team of professional designers, developers and coders.
10. Post Development Tasks and Supports: Application development is a long term process that includes pre and post development tasks. Certain post development tasks like app submission, testing of the app, error fixing, maintenance and support are the most crucial and therefore, you need to discuss the post development services with the development team before signing the agreement.
Hire App developer by following the above tips and you are sure to win the game in the long run. Today, you will find a huge number of app developers in Kolkata, who provide professional services in a nominal budget. By researching about their experience and all the other aspects, you can choose a development team easily that caters to your needs.
Are you looking for a professional and experienced Android development team for your business? If you say yes, we ensure that you are on the right page. We are one of the leading companies providing multiple services in Android application development, SEO, digital marketing and many more. To know more about Android development or our other services, feel free to call us.