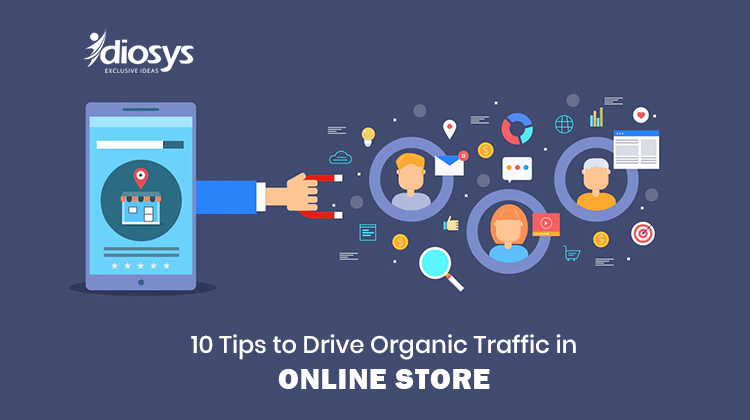 09 Mar,&nbsp2020
Today, the product listing ads are becoming more expensive and therefore, SEO is probably one of the best ways to boost traffic in your online store. For companies with eCommerce websites and applications, there are multiple SEO strategies to apply. One of these online marketing strategies is organic SEO, which is comparatively less expensive and yet high on performance. You can easily combat the rising prices in your paid acquisition efforts with organic SEO. Now, let us know about the same in detail.
In 2020, there are new strategies for organic SEO and if you are looking for the same, here you go. These strategies are no doubt critical but when you know the right tricks, you are one step ahead. You can also hire an online marketing company to see whether these strategies are taking you to the right direction. Here are the ten chosen tips for driving more traffic in your online store through organic search engine optimization.
1. Structure of the Website: The performance of your SEO strategies depends a lot upon the structure of your website. The experts suggest you have a simple website structure that has less number of flaws. It not only improves your rank in the search engine optimization results but also increases the chances of product purchase. The two forms, breadcrumb navigation and clean URLs, are essential in creating a well-structured eCommerce website.
2. Well Researched Keywords: As many of us know, keywords are one of the most essential elements of your website as these increase the chances of getting a higher rank in the search engine optimization pages. The keywords you choose can make or break all your SEO efforts and therefore, you need to be careful while choosing them. Tools like Google Keyword Planner can help you in finding the most searched keywords.
3. Product Page Optimization: The third step would be to optimize your product pages to get a higher search result rank. Product descriptions and product pages are the two essential elements here that you need to be careful about. Creative and unique content is the key to the ultimate success and there are multiple tips to achieve excellence in it. Sticking to your points, utilizing bullets, calls to action and minimizing jargon are some essential tips that our experts share.
4. Avoiding Duplicate Content: As we already know, creating unique and catchy content is what you need to prioritize upon when it comes to product descriptions. Anything you put on your website needs to be original and not copied from anywhere else. Also, if you think that some descriptions are similar to the products are, you can add a canonical tag or a 301 redirect for those specific pages.
5. Mobile Navigation: Today, most of the users on a website are navigating from their smartphones. Hence, you must create a website while keeping in mind the mobile experience. The potential buyers mostly purchase products from their smartphones and therefore, you need to also provide a smooth and fast buying experience for the smartphone users.
6. Optimizing Category Pages: In eCommerce websites, the category pages play a crucial role and they follow a lot of principles. For instance, the category pages need to have unique and creative content that focuses on SEO practices. Also, optimizing category titles from your keyword research is essential. Optimizing the meta descriptions, adding encouraging users to click are the other strategies that you need to apply.
7. Avoiding Broken Links: This one might seem like an easy one, but it's one of the most important tips. We all have faced a problem with Page 404 Not Found on many websites. It's definitely not a good experience for the user and therefore, fixing the 404 links should become a part of your routine maintenance.
8. Maximizing Website Speed: The website speed also determines the user experience. When a potential buyer explores the products on your website that is difficult to upload, they lack further interest. Hence, you can make good use of the tools like Google PageSpeed Insights, Pingdom and many more to improve the website speed.
9.Secured Website: If your online store doesn't have HTTPS, it's high time you should secure it with HTTPS. As you are selling products and collecting personal details from customers, you need to be more careful about the same.
10. More Content: When you create and add more content to your website, the chances of organic search improves. The websites that create and add content on a regular basis on their website get higher ranking in the search engine optimization results.
Now when you know about the most crucial strategies to boost the organic search in your online store, go ahead and make the most use of it. If you are searching for the best SEO agency to support you in this venture, feel free to contact us. We, Idiosys Technologies, are one of the pioneers when it comes to web development, app development, SEO, online marketing and a lot more professional services. We are recognized as the best SEO company by most of our clients from all over the world. To know more about our services and packages, feel free to get in touch with us now!