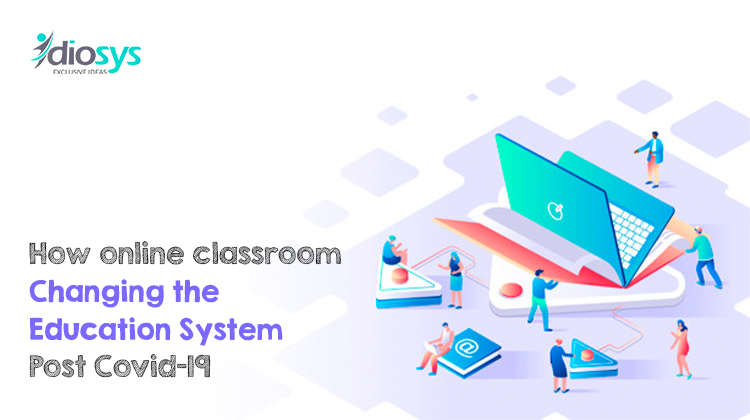 12 Jun,&nbsp2020
The pandemic Covid-19 is changing each and everyone's life in many aspects. Restaurants, cafeterias, malls are closed and there's no hanging around in the streets. Offices are following remote working practice and there's no alternative for work from home. Schools, colleges, institutes are closed and online classrooms are on. With so many norms and precautions, everyone is trying to sustain for the next few months until the world gets rid of this pandemic. The sudden shift from classroom education to online teaching programs is a sign of how the online classroom platform is changing the education system post Covid-19. It has both advantages and disadvantages that we are aware of. Here, we will see how the platform of the online classroom is rising and what is the future of online classroom platform development. So, without any further delay, let us explore it.
How Online Classroom is Changing the Education System:
Since the lockdown, attending classes has never been the same. While the trend of the online classroom is not a new one, it was more evident only in the sector of distance education. Most of the universities had online learning programs and software available but only to cater to distant students. The traditional classroom teaching had never seen such a crisis until now. Right now, over 1.2 billion children all over the world are locked inside their home. But, this crisis cannot stop the learning and therefore, institutes have started to find their way out of this. In a state of emergency, people have to adopt digital technology quickly in order to study and work.
Online Classroom Platform Development:
While adopting technology at an emergency is not providing the educators with cent per cent satisfaction, the software development industry is growing faster as there are high demands for the new online classroom development company. The app and web development industry is trying to discover the latest technologies to make the classroom teaching experience better. New apps and tools are launching to fulfil the needs of numerous institutions across the globe. Any software is integrated with features related to the theme. Team management software is integrated with features required for managing teams of professionals within an organization. Similarly, online learning apps are being integrated with the most advanced features to elevate the overall experience of the students and the teachers.
The Future of Online Classroom:
It is for sure that the students are experiencing a whole new type of learning. Many students find it difficult to take notes or dictations properly in the classroom. After the online learning program became global, they can retain approximately 25-60% more material than the classroom. Learning at their own space is providing them with more comfort and less fear. As a result, they are able to learn faster. Along with it, re-reading, skipping and accelerating through concepts are becoming easier for most of the students with the new online learning program. Here, the convenience depends a lot upon the online classroom platform and its simplicity.
Pros & Cons:
There are both positive and negative aspects of online teaching that we cannot deny. However, for the software development companies, it is coming as a new challenge to create the most user-friendly learning apps and tools within a short span of time. Usually, the average video call app users are professionals like office employees but in this scenario, the users are children and adults with limited proficiency of computer on an average. Hence, it is a real challenge for the development companies to create the most convenient app. Some of the renowned learning apps like Virtual Classroom, BrainCert, Virtual Blackboard, Google Classroom, Eliademy and BYJU'S are leading the others with a huge number of users.
If you are looking for an online classroom development company for your service, feel free to get in touch with us. We, Idiosys Technologies, are one of the best companies when it comes to simple and effective app development. We provide web development, app development, business development, digital marketing and many more services to a huge number of clients across the globe. To know about how you can get an online classroom platform developed or customized, feel free to get in touch with us.