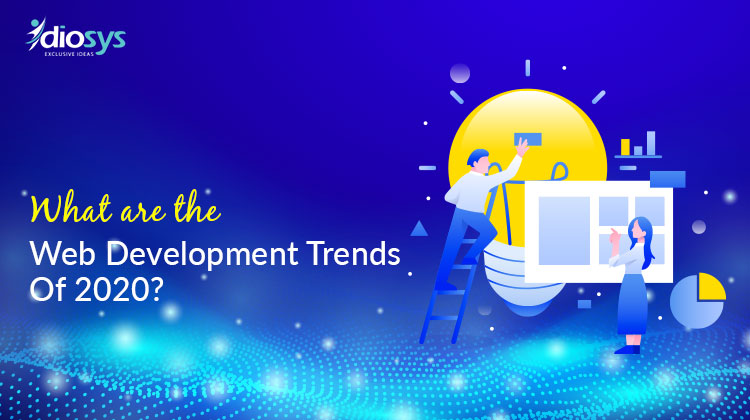 27 Jun,&nbsp2020
Web development trends are ever-evolving and every year, there are new trends that attract people. The purpose of top-notch web development is to make websites more interactive to the users. There are multiple technologies that can help a web development company to achieve the desired result. Starting from the smartest technologies to a well-executed plan makes it possible to set remarkable trends in web development.
If you are looking for the latest web development trends of 2020, here you go. Here are the most popular trends in web development nowadays. Read on to explore these trends and hire web developer to incorporate these ideas into your business website.
1) Progressive Web Apps: It is one of the most effective trends in web development today. PWA or Progressive Web Apps focus on user-friendliness and therefore, make website browsing experience closer to native mobile applications. These website offer functionality available to native apps.
2) Accelerated Mobile Pages: Back in 2015, this concept was introduced for the first time and it took five years to become one of the best practices in web development. Keeping in mind the smartphone interface of the user, these websites load instantly and work very smoothly across mobile devices.
3) Responsive websites: While there are new trends like PWA and AMP, the older ones are still very much in the scene due to responsiveness. There is an emphasis on mobile devices responsiveness and based on it, older technologies are also in trend today.
4) Voice search optimization: The number of smart speakers is rising every year and it could be almost 21.4 million of smart speakers in the United States by 2020. As a result, voice search optimization is one of the latest trends in web development, where the users will be able to navigate with voices.
5) API-first development: Connectivity with other applications is another aspect that determines the web development trends and that's where the API-first development approach comes from. API or application program interface is used for programming GUI components. You can hire web developer to get API integrated website for your company.
6) Push notifications: Push notifications to deliver different information to end-users such as new blog post, products the user liked back in stock, etc. It provides additional marketing opportunities by interacting with their target audience.
7) AI-powered chatbots: These are the best when it comes to quick assistance. With chatbots, the companies are able to provide 24/7 support to customers from every part of the world. Chatbot integrated with AI is a long-term investment and highly effective.
8) Motion UI: Animations are the best when it comes to attracting the viewers in a website. Motion UI helps the viewers to get useful information in a simple and interactive way. It also helps the websites to distract the viewers from acknowledging the loading time of the website.
Above are the eight web development techniques that are trending in 2020. From these trends, we have analyzed how people are looking for a mobile version of their website. Apart from the Windows and Android operating systems, BlackBerry and iPhone integrated websites are also in high demand. If you search further, you will see how technology is rushing fast to keep up with the endless new resolutions and devices. Every single day there is a new device launch and making website integration for all devices is a daunting task. Although it is crucial not to lose a single visitor, it is also important to know where to stop.
To know more about the latest trends, feel free to get in touch with us. We, Idiosys Technologies, are a well-acclaimed company providing web development services to a large number of clients from USA, UK, Canada, Australia, France, Germany, Sweden, Switzerland and UAE. We have our headquarter in Kolkata, India and a branch in the UK. As we have a team of highly skilled and experienced professionals, we offer top-notch services in web development, app development, web designing, app designing, business development, digital marketing and many more domains. For our esteemed clients, we are the best web development company they have found so far. To avail our services or to know about our packages in detail, feel free to contact us.