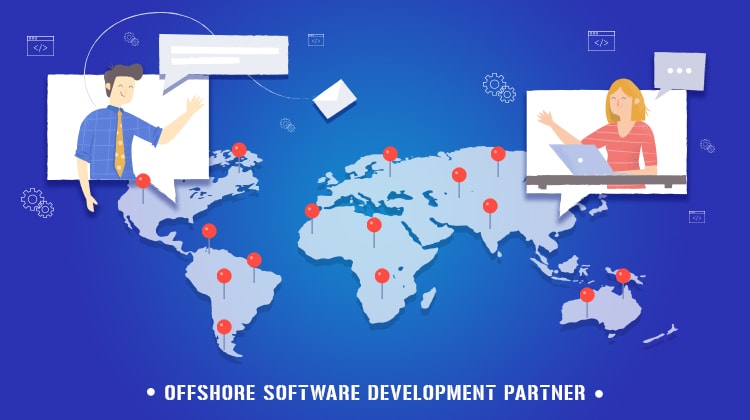 27 Apr,&nbsp2019
As a highly advanced process of software development, offshore software development services have earned huge popularity in the past few years across the globe. It is a way of working with an overseas company to get the IT requirements done. The overseas software development companies are not only focused upon their work but are well connected to provide top-notch professional services and meet every development need of their reputed clients.
In 2018, the expenditure upon IT resources worldwide reached up to approximately 987 billion U.S. dollars. In 2019, it is expected to increase further to at least 1,034 billion U.S. dollars, as researches assume. This makes us assured that with the rise of the expense, the demand for offshore development service is bound to increase. The need for IT talents will replace the reason for offshore development from low cost to a need for potential and extremely talented IT resources that can be located at a remote distance from the client companies.
If you are planning to expand your business and create wings such as online marketing, primarily you need a development team to build apps and websites for your company. This article shows you the various reasons for which you can switch to offshore outsourcing for software development as it would benefit you in multiple ways. Starting from gaining excellent services, the offshore development service would save your budget too.
• Professional Service: The overseas companies providing software development are extremely focused upon their services. As their sole responsibility is software development, they have a solid base on their niche. These companies hire skilled professionals who work relentlessly and earn experience for a long time. Opting for these companies would be more reliable than creating an in-house development team. The professional services that you get from offshore development, is bound to be outstanding, unparallel as compared to your in-house team.
• Talent Shortage: The huge demand for IT professionals worldwide has resulted in a shortage of talents and to find real IT talents, you need to search beyond your locality. Cloud services have increased in the last couple of years and have proven to be profitable in terms of quality services. This is the second reason why you need to opt for overseas software companies to get better services at a lower cost.
• No Infrastructure Cost: Creating an in-house software team requires a lot of expenditure upon leads, office infrastructure and so on. On the contrary, a dedicated development team cuts down all these costs and in return offer you top-notch professional services. Moreover, you can choose them to work for a particular section of a project or for an entire project. If not satisfied with the service, you can opt for another company whereas you may not have similar freedom while working with your in-house team. Reconstructing or remodeling the in-house software team infrastructure is not recommended by the business experts for obvious reasons.
• Share Responsibility: Another big reason for choosing an offshore development service is that you can share your work responsibility with them. Recent surveys have shown how offshore development has strengthened the customer-supplier relationship globally. When you and the offshore team are both keeping eyes upon the quality of a project, the approach is like a partnership where the chances of losing are lower. The output that such a relationship will produce is bound to be brilliant as the researches show.
• Focus upon Specific Project: If you are running multiple projects simultaneously and planning to distribute the work among the best IT professionals, the best way to get things done correctly is to appoint offshore development teams. If you choose to hire different companies for different projects, you can do so. In case you want to appoint one company and handover multiple projects to them, they will form different teams within their companies to lend you excellent service. When they are focused upon their specific projects, the quality of the work is sure to be outstanding.
• Budget-Friendly Services: The offshore development companies offer you various packages that are economic and yet compact. When you compare the charges with the in-house software team management cost, the former is supposed to be lower. The offshore software development services will never disappoint you when it comes to the budget as these services cut down your cost upon resources, infrastructure and the rest.
• Timeline Adherence: The dedicated development teams always fix a timeline and submit the work based on it. As professionals, they try to deliver work on or before time so as to meet your requirements. In case if there is any mismanagement, they will inform you prior to the deadline, which will let you relax and set the next targets accordingly.
Though offshore development is easy and effective, however, there are some aspects of these services that you need to remember before you opt for the same. The work culture is an important aspect of any overseas service that you need to consider. If you expect a similar work culture, have a discussion with the company representatives before you hire them. There will be a different time zone they work upon and you need to plan accordingly. Besides, when you are opting for a cloud service, ensure that they keep in touch with proper communication so that the transparency is maintained.
We are one of the reputed software development companies in India providing avant-garde solutions to our overseas and domestic clients. Adherence to the deadline, flawless development, creativity, knowledge, skill, experience, excellent communication are some of the aspects of our services that have made us the most desirable development partner of all our clients from India, Germany, Canada, USA, Panama, Brazil and Australia. Headquartered in Kolkata, India, we have successfully founded a branch in the UK at Coulsdon. Keeping a long term relationship is what we seek and this drives us to deliver nothing but superior services when compared to the other development companies.
To hire us as your offshore development partner, feel free to contact us!