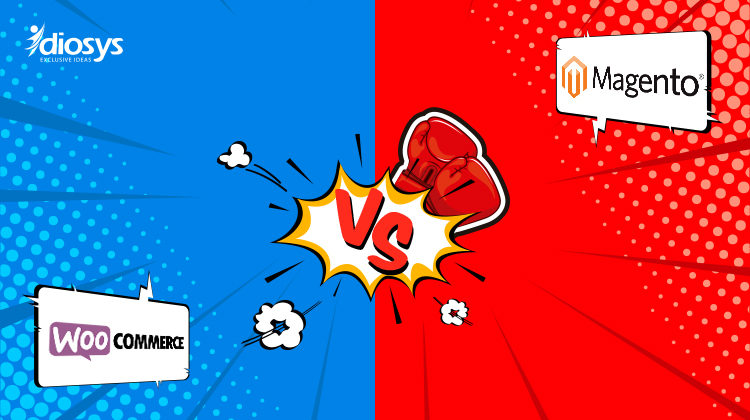 06 Jan,&nbsp2020
An online business store is one of the best ways to reach out to your global customers. When it comes to choosing a suitable platform for your online store, the task might be quite tricky. If you are an e-commerce business owner looking for a reliable platform to develop and manage your online store, here you go. The all-new self-hosted e-commerce platforms let you unleash the complete potential of your online store and manage everything in the store site properly. Within the wide spectrum of e-commerce application development, WooCommerce and Magento are two significant names today. These two are the most popular and perhaps the most reliable among the lot. Here, we will help you to choose between these two as per your business goals. So, without any further delay, let us proceed with a brief overview.

A Brief Overview: Magento and WooCommerce, are open-source systems that allow everyone from the community to develop the website. The former offers a wide range of features and functionality. It has two editions named Magento Open Source and Magento Commerce. Now, the first edition lets you access the basic functions needed to run an e-commerce store. The second one is a premium paid edition, which is loaded with rich, out-of-the-box features. Hence, this one is apt for growing your customer demands on a large scale.
The later one, WooCommerce, is a plugin for WordPress. It was first launched in 2011 and since then has gone through several modifications. Hence, it lets the users to instantly turn their WordPress website into an e-commerce site. As the developing company claims, it is an extendable, flexible, and open-sourced platform. More precisely, the customers can easily build the store they need and define their own style with the storefront from the website.
Comparison: When it comes to comparing these two platforms, the task is difficult since both are the best of the lot. They both offer a great capacity to facilitate smooth selling on a website. When it comes to the expansion of the online store, both have brilliant features. It is obvious that each of these two cannot win in every aspect and here is the comparison according to those aspects. The four aspects are the comfort of the user, speed and performance, security setup, and add-on features.
The comfort of User: WooCommerce

Speed and Performance: Both

Security Setup: Magento

Add-on Features: Magento
Now, let us come to the features that these two platforms provide for your better understanding. Knowing these features, you will be able to choose the most appropriate one as per your business goals. However, none of them has it all that you need. So, you need to select the one that is closer to your requirements.
Inventory Management: Using both these platforms, you can add as many products as you want on your website. There is no restriction on the number of products to add to your website.
Discounts and Coupon Codes: In Magento out-of-the-box, you get this feature in a proper way. However, using WooCommerce, you may not be satisfied with the basic feature. A company providing a shopping cart development service will guide you better about the same.
Themes and Templates: Both provide you with a variety of themes and templates to choose from. However, if you need more, you need to pay on both the platforms.
Multi-Languages Support: This one is a crucial feature and Magento provides you with the same. In WooCommerce, you need to buy WPML to access multiple languages.
SEO: Magento is well-known for SEO capabilities whereas WooCommerce is a little behind.
Price: As both of them are open-source platforms, you can easily modify their original code. You need to pay to get access to the premium features in both.
Above is a brief comparison of these two powerful platforms for your e-commerce website. To know more about the same, feel free to contact us. We, Idiosys Technologies are one of the well-known names in the arena of web development, app development, business development, and a lot more services. We are a reputed e-commerce development company based in India and with a branch in the UK. Hence, get in touch with us to develop your e-commerce website now.
YOU MAY ALSO READ
HOW TO MAKE RESPONSIVE E-COMMERCE FRONT END BY BOOTSTRAP
WHY SHOULD YOU CHOOSE LARAVEL FOR FASTER WEB-BASED APPS IN 2022?