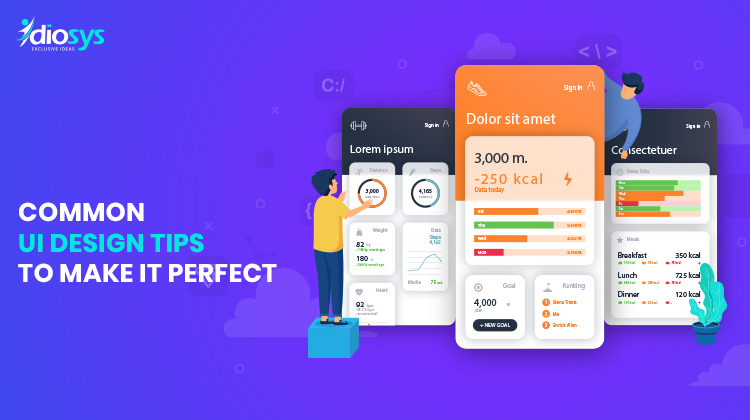 06 Dec,&nbsp2019
Building elegant, easy to use, and customized user interface designs are not easy. It can be a tricky task as you may not know some of the essentials of UI design. It stands for the user interface, which is one of the determiners of website development. UI design makes an integral part of web development or app development, and it requires exceptional skills to accomplish the same. There are UI designers who specialize in it and can deliver flawless designs. After all, the main purpose of a website or application is to make a process easier and faster for the readers and customers. Therefore, UI design is an essential element in web and app development. It helps the owners to create business websites that are easy to understand and navigate. Keeping in mind the convenience of the users, today, UI design is given utmost priority in modern web design service.
We all know the basic purposes of a website. It is not merely a group of pages that are connected via links. It is much more than that. It is an interface or space where different things meet and communicate, or often affect each other as well. It provides an experience to its users or viewers, go get connected to the services of the website through content, images, and many more options. This is why; it is the responsibility of the developers to make the experience as clear as possible for the viewers. Hence, the developers try to develop web pages with the simplest configuration.
Know your Users: The first criterion of web or app designing is to know the users or customers. Based on the service, there will be different types of customers or viewers of different ages, gender, and personal traits. Hence, the UI designer needs first to know the potential customers of a brand, while designing its website or application.

Defining User Interface: Before one starts to design a website, she or he needs to define how people will use it. Today, the main resources of websites or online applications are touch-based devices. Hence, the apps or websites need to make the touch experience easy and exciting for the customers. For instance, Tinder is an app that has introduced swiping as the interface. Adding to this, there are two methods known for website design based on direct and indirect use.

Set Expectations: Some of the website interactions bring with its visible consequences. Hence, the designer needs to be sure that the users know each of the interface's functions before they use them. This one is a crucial point in securing a user interface with loyalty. One can set expectations with design by highlighting some portion and using some symbols. In this way, the audiences will be able to anticipate their mistakes.

Provide Fast Feedback: We all want some feedback after any action, and this feature is a demand for the users of websites or applications. In our real everyday world, the environment provides us with fast and natural feedbacks. Hence, the designer needs to understand the requirements of the users and provide them with fast feedbacks.

Placement and Size: The final responsibility of a UI designer is to design according to the aesthetic demands of the website or application. Modern web design service requires innovative designs that look trendy and yet simple. Hence, the designers need to be careful about the placement and size of the tabs, buttons, and other elements.
Are you looking for a UI designer for your website or app development? If yes, then you have come to the right destination. We, Idiosys Technologies, are one of the pioneers in web design service, app design service, digital marketing, advertisement, business development, and a lot of services. Our sincere services with a team of skilled and experienced professionals have made our clients from USA, UK, Canada, Australia, France, Germany, Sweden, Switzerland, UAE, extremely satisfied. To know more about our UI design services and packages, feel free to get in touch with us via call, mail, or message. Hurry up and hire our professional services now!