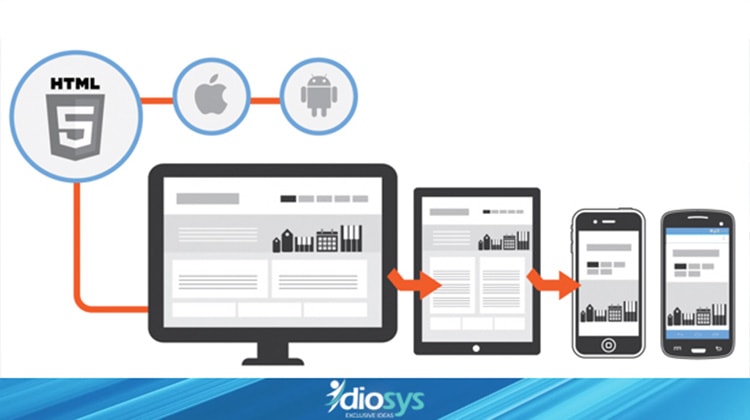 13 May,&nbsp2016
Responsive web design (RWD) is an approach to web design aimed at crafting sites to provide an optimal viewing and interaction experience—easy reading and navigation with a minimum of resizing, panning, and scrolling—across a wide range of devices (from desktop computer monitors to mobile phones). Responsive web design is like water it has no shape, it takes the device shape. For that reason web developer recommended responsive design as a cost-effective alternative to mobile applications. With a responsive site, your site will adapt to each device, providing the relevant layout and content that best meets the users' needs.
Here are some of the undeniable reasons your website needs to be responsive Mobile user`s are rising: A large number website traffic comes from mobile devices. And every month mobile usage continues to grow, so every month more and more customers will view your website from a mobile device. More than 58 % of people have a better opinion of brands when they offer a good mobile experience. If their experience viewing and interacting with your site is good, they'll likely have well option of your brand, and they'll also be more likely to visit your site.
Responsive sites improve SEO ranking: Responsive websites will perform better in search rankings because they provide a better user experience than sites that are not mobile friendly. Now mobile phones have a separate Google search algorithm as well, so just because your site ranks high in desktop search doesn't mean it will continue to rank well for the same search via their phone.
The search engine giants google prefers responsive web design over mobile templates. Having one single URL makes it easier for Google boot to crawl your site and reduces the chance of on-page SEO errors helps your site decrease bounce rates. Load times are better with responsive websites. Without a responsive design, you could lose more than 40% of your traffic! Increase social Media presence: Almost 50% of social media consumption now happens on mobile devices, so sharing links from social media sites like, Facebook, YouTube, Twitter, or Google Plus to your website will mean more traffic and viewing of your website from mobile devices. So if you want to leverage social sharing of content, get responsive.
With a responsive site, web pages adjust seamlessly to the size of any device. No hassle for you to create multiple website versions and no hassle for your website visitor. That's why you need a responsive website design. So when you think about to design and developed your business website, Go for responsive web design
YOU MAY ALSO READ :
TOP 10 TRENDS OF BUSINESS WEBSITE DESIGN IN 2018
WHY CUSTOM CMS WEBSITE DESIGN IMPORTANT FOR YOUR BUSINESS
BOOTSTRAP FRAMEWORK- THE TRENDIEST FRONT-END DESIGN FRAMEWORKS?