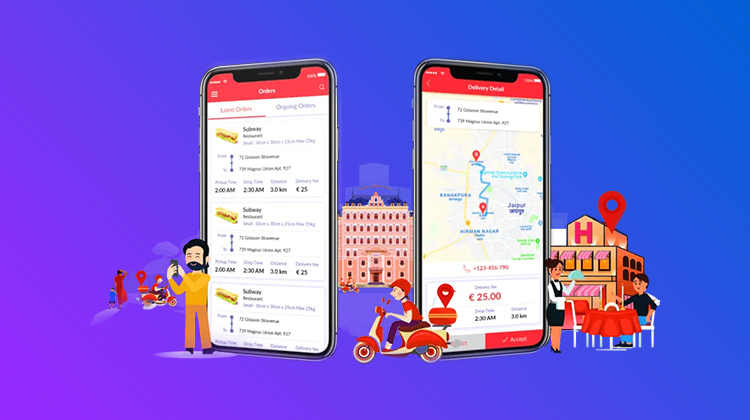 22 Nov,&nbsp2019
Food delivery applications are getting instant acclamation due to their high demand in the global market. The high-tech apps undoubtedly are one of the most successful innovations of technological advancement in the last few years. Web application development service has made it possible for the entrepreneurs to spread their business online, thanks to the professional developers. For some specific types of businesses, it is more beneficial to have an online presence, and the food business is one of these. Today, most of the customers stay online via devices like smartphones, and food delivery through apps is possible when someone develops a smart food delivery application. Hence, if you are interested to know about the essential features of the most successful food delivery apps, here you go. Here, we will explain some of the most engaging features, which can help your food delivery apps to get instant success.
1.Easy User Interface: Most of the successful food apps today have an easy user interface, keeping in mind the convenience of all the customers. The home page provides an extensive list of the restaurants available online along with the discount and offers details. Also, the delivery process step by step is made easier so that the user can use it faster.
2.Exciting Offers, Deals, and Promotions: This one is an essential feature in every food delivery app development. The online food delivery apps like Zomato, Swiggy, and Uber Eats provide huge discounts to their customers in all seasons. It not only helps these companies to find new customers but also to satisfy the regular customers and earn more revenues in the long run. The information about deals and promotions helps these food apps to impress their customers each day they log in.
3. Order Scheduling: When a customer orders food online, it is always helpful for them to get access to the order status easily. Now, with the famous food apps, they can get instant information about the time the order will arrive, and this is called order scheduling. Some of the high-tech apps have also introduced a feature, which lets the customer preorder hours before and relaxes by using the order scheduling.
4. Multiple Payment Options: When you want to reach out to a huge number of customers online, you need to introduce different payment methods. Today, the options for online payment are vast, and including almost every method will help you to make online food ordering more convenient for every customer. Along with this, the cash on delivery option is also a crucial payment method that one needs to include.
5. Delivery Tracking via GPS: Now, when a customer is ordering food online, it is essential to provide her or him with the current order status. This has been possible with the advanced app development technology, and today, most of the food apps are able to provide their customers with a GPS delivery tracking facility.
6. Customer Care: This feature is essential in every application as it helps the owners to provide the utmost customer satisfaction. Often, there are mistakes during the food ordering process, and the application needs to provide chatbots or other options of customer support. In food apps, this feature is more essential than some of the other businesses, as food ordering is one of the basic necessities of the customers.
Are you planning to develop a unique and simple food application for your business? If yes, then you are at the right destination. We, Idiosys Technologies, are one of the highly acclaimed application development companies providing avant-garde and smart solutions to our reputed clients from across the globe. We provide a plethora of services like app development, web development, online marketing, advertisement, and a lot more. You can avail of our advanced web application development service, which consists of a team of highly skilled and experienced web developers and professionals. We have earned a huge acclamation from our clients of the USA, UK, Canada, Australia, France, Germany, Sweden, Switzerland, UAE, etc. To know more about our app development services and packages, feel free to get in touch with us.