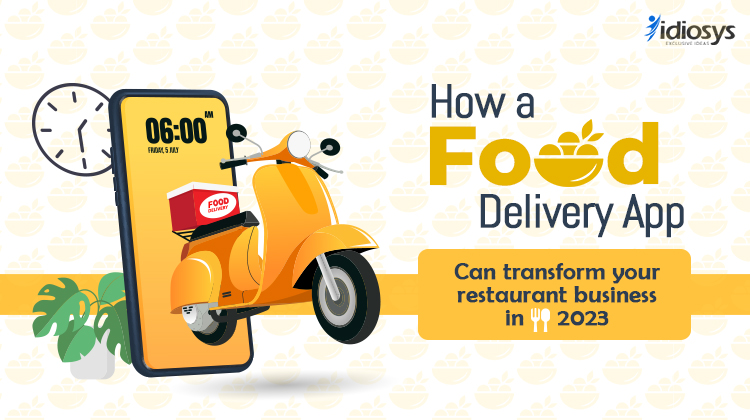 16 Feb,&nbsp2023
Growing a restaurant business involves multiple challenges and obstacles to overcome and especially when it's in the initial stage. A lot of planning and proper execution of each go into making a restaurant popular or successful, regardless of its size. For this reason, it's quite essential to comply with the latest technologies while developing any business. And so, if you're wondering whether you need a food delivery app development company or not for your restaurant, here's the answer.
After the Covid-19 pandemic, restaurant businesses have drastically changed worldwide, leading to a complete shutdown of many popular food chains. On the other hand, the concepts of cloud kitchens and food delivery apps have become quite relevant owing to facilities like contactless delivery. Presently, a huge number of restaurant owners are focusing on the development of their own food apps to provide full satisfaction to their target customers. Hence, 2023 is the best time that you to reinvent your marketing strategies with online services by following the tips below.
How a food delivery app can transform your restaurant business in 2023?
1. Menu Upgradation: Upgrading the interior of your restaurant isn't enough when you are planning to start a food delivery app. You need to upgrade your food menu, optimize it and also provide an option for customization. If you optimize your menu, the users will be able to see which dishes are hot-selling, which are recommended, which are spicy etc. Customization means your customers will be able to add tips while ordering, just like they ask for customization while dining in.
2. GPS Tracking: The next thing you need to pay the most attention to is GPS tracking. Food delivery giants like Swiggy and Zomato are known for their accurate GPS tracking systems and prompt delivery. You need to follow their model and ask your app development company to focus on the accuracy of the GPS system. Otherwise, late deliveries can lead to negative feedback from disappointed customers and related issues in the future.
3. Online Promotions: Today, digital marketing and SEO are crucial for making any business popular. Be it for increasing your brand value to reach a larger number of potential customers, online promotions are a must thing. You can also create pages on social media for promotional purposes and market your brand by organizing campaigns. These are very basic strategies of promotion that any digital marketing expert will help you with.
4. Push Notifications: It's really important to present your brand logo, app and website just as you would do to your fine-dining restaurant. To attract your customers, these elements will play crucial roles. And when the design part is ready and the app is launched, all you need to invest in is push notifications. These app-generated alerts are great at grabbing the attention of customers and pushing them to visit the app for offers or other facilities.
5. Exciting Offers: This is an evergreen policy in the food business, which often leads to rapid success. Customers love online promotions, offers and loyalty programs. Statistics show that restaurants that provide exciting offers end up boosting their sales much more than those that don't. You can provide your old customers with loyalty points that they can redeem during checkouts. For the new customers, you can provide a percentage of discount on their first order.
6. Customer Feedback: Though the main purpose of customer feedback should be for the improvement of services, many restaurant owners welcome feedback for promotional purposes as well. That's because a huge number of new customers read reviews first before ordering from any restaurant for the first time, irrespective of how popular it is. Hence, during your food delivery app development, never forget to add a space for customer feedback.
7. Multiple Payment Modes: Today, there are so many payment modes available that an absence of such options ends up utterly disappointing customers. For example, many people prefer cashless and contactless payment options with debit cards and digital wallets. They may leave your app once they don't find these convenient options. So, you need to integrate your food app with UPI, debit card, and digital wallet payment options as well as COD.
8. Reduced Operational Costs: Though investing in a food delivery app may seem expensive at first, many restaurant owners would agree that it's less expensive than the operational costs of a fine-dining restaurant. If you're wondering how your food delivery app will transform your restaurant business in 2023, here's how. You can make the most of app features such as automated order management and live status to reduce operational costs further.
Now that you know how a food delivery app can transform your restaurant business in 2023, what are you waiting for? Well, if you're waiting for a reliable partner to offer you an affordable food delivery app development service, no need to wait any further. At Idiosys Technologies, we can ensure you with all the above features of your highly scalable food delivery app. Our team is also working on the e-commerce app, taxi/cab booking application, and on-demand booking app development. You can hire app developer from our team of dedicated app developers.
You May Also Read
10 Reasons to Invest in Restaurant Management Software
Why Cloud base Hotel Solution would be a game changer in 2022