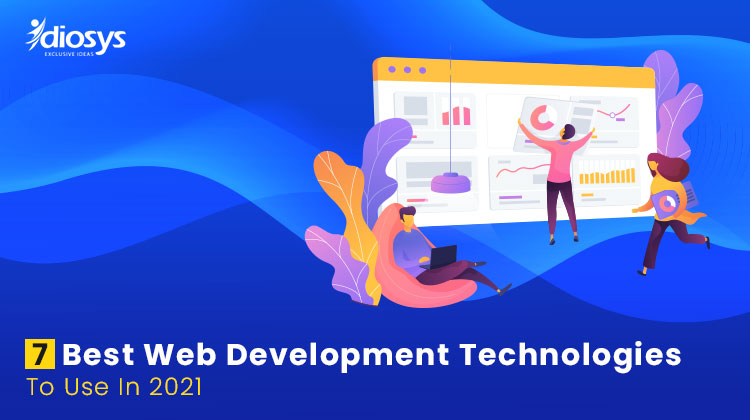 26 Apr,&nbsp2021
Web developers need to stay updated with the latest technologies as these are changing rapidly. For the success of your business, implying the latest web development technologies is one of the most crucial factors. If you hire the best web development company, the professionals will help you through this process. However, it is also important that you know certain factors while choosing these technologies. Also, to select the best technologies among ample choices, you need to have a little idea about how these work. Hence, to help you understand the basics of the latest web development technologies, here are the 7 technologies explained. Read on to know the 7 best web development technologies to use in 2021.

1. Progressive Web App Development: To provide an app-like user experience, PWAs take the advantage of the latest technologies to combine the best web and mobile apps. Studies show that these websites have 36% higher conversion rates than the regular native apps. This is the reason for its immense popularity nowadays. Some examples of PWA are Amazon, Twitter and Forbes, which are basically websites, but look and function like apps.

2. Dark-Themed UI: Mobile apps with the dark theme are common today but now websites are also moving towards it. The main advantage of dark theme is that these are easy for the eyes. Also, it saves battery time by minimizing the light content on the screen. When it comes to appearance, it gives the website a stylish touch. Some of the examples are WhatsApp, Twitter, Facebook, YouTube, Android and Apple.

3. AI-Powered Chatbots: In 2021, the demand for AI-powered chatbots will be on top. This technology basically enables you to improve customer experience by providing virtual assistance. Once the users land on a web page, the chatbots instantly engage them. Chatbots usually collect data from users through a series of engagements and therefore, these can provide better solutions. Industries such as eCommerce, travel and tourism, healthcare worldwide are immensely benefitted from this technology.

4. Single-Page Websites: The trend that started in 2020 continues to dominate in 2021. The trend of long and extensive web structures is outdated as single-page websites are crisp and more convenient. Mobile users find these websites extremely easy to navigate. These websites basically minimize the page load and make it a faster experience for the users. You can hire the best web development company to create a single-page website for your business.

5. Voice Recognition Technology: Voice search is an area that is going to be improved more in 2021. By the end of 2023, almost 8 billion voice assistants will be all over the internet, helping and assisting people. Along with this, voice eCommerce is going to dominate the market in future. Google, Amazon and Microsoft are already using this technology and it is going to reach a new level in 2021.

6. Website Security: Today, almost all companies are using digital platforms to run their businesses. Security of the website is one of the most crucial factors for them. There is a lot of sensitive customer information that these websites have and 2021 will be the year when strict website security protocols including HTTPS protocol will be implied for all.

7. Cloud Computing: Google Cloud Functions, Azure Functions, AWS Lambda are some famous names that we are aware of. Gartner assumes that the cloud service is going to improve by almost $306.9 billion by the end of 2021. The main purpose of cloud computing is to prevent data loss and data overloading. It has the potential to transform the concept of web development by the end of 2021.

Now that you know these 7 amazing web development technologies to use in 2021, go ahead and make the most of it. If you are looking for a reliable web development company for your business, look no further than us. We, Idiosys Technologies, are the best web development company in Kolkata providing app development service and marketing solutions to a huge number of multi-national and start-up companies from India, Canada, the USA, Germany, Australia, Brazil, the UK and Panama. You can hire web development and SEO experts from our company to imply all the above technologies for your business in 2021.
YOU MAY ALSO READ
HIRING DEVELOPERS VS PROJECT-BASED OUTSOURCING WHICH SHOULD BE THE CHOICE IN 2022