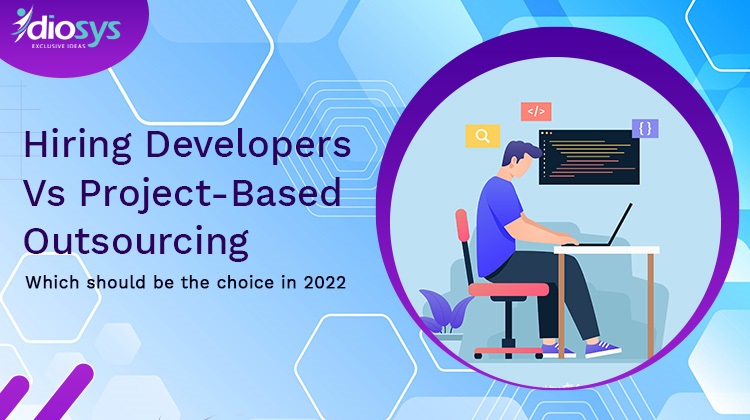 28 Jan,&nbsp2022
If you are about to hire web developer for your project, there are thousands of questions that might affect you. One of the most significant ones is whether a developer is the best at the work or outsourcing is the perfect solution. Well, let us help you choose wisely as we give our insights on this valuable topic.
Even a few years ago, outsourcing was one of the most debatable topics among professionals across the globe. While some companies talked more about the benefits of it, the others completely denied it because of their unsatisfactory experiences in the past. For all these reasons, you might be still wondering whether hiring dedicated developers would be a better idea or you should consider outsourcing for your own project. No worries as here we are going to give you a complete analysis of both the services, the pros and cons of each of them so that you can make your decision.
The Difference between Hiring Developers and Outsourcing:
Hiring dedicated developers means you are recruiting a developer in your company to build your website or application. In contrast, outsourcing means you are going to partner with a company that comprises experienced developers so that they can build the website or application for you. This is the main difference between these two services.
The Pros of Hiring Dedicated Developers:
1. Complete Control: Since the developer is an employee of your company, you can have complete control over the entire process. Also, during recruitment, the person is made aware of your business goals and philosophy, which can improve the overall quality of the work.
2. Transparency: You can have full control over the work means the person is maintaining utmost transparency with you. Hence, your entire team can share great communication and work according to your instructions.
The Cons of Hiring Dedicated Developers:
Time: You can easily hire web developer in your company but there are some disadvantages as well. The process of hiring may need more time than you assume since you would want to get the best developer in your team.
1. Low Cost: Though outsourcing may sound very expensive, it actually isn't. In fact, you need to invest more when hiring a developer than outsourcing because of the resources and many other hidden costs.
2. Access to Talented Professionals: Outsourcing makes it possible for companies to include talented professionals in their projects. It is one of the biggest advantages of outsourcing.
3. Short Term Commitment: Since you will be partnering with professionals for specific projects, there is no sign of long term commitment, which can save your budget further.
1. Miscommunication: It is easier to lose communication with remote teams than with someone who's working in your own company.
2. Security Risks: Another disadvantage of outsourcing is the security risks associated with your confidential data.
Finally, at the end of this debate, we can see that hiring developers is always a better idea than outsourcing owing to especially the disadvantages of both.
If you are planning for a dream project and going to hire web developer to partner with, look no further than us. We, Idiosys Technologies, are one of the most eminent companies across the globe providing web development, app development, UX designs and marketing services. Headquartered in Kolkata, we dedicatedly provide all these solutions to a huge number of multi-national and start-up companies from India, Canada, the USA, Germany, Australia, Brazil, the UK and Panama. Our expertise and long experience in the industry has made us one of the top web development and IT companies in India. You can hire dedicated web developer from our company to boost your online presence. So, why wait anymore? Contact us today to know which deals are the best for you.
YOU MAY ALSO READ
REACT NATIVE – TOP 8 REASONS TO CHOOSE IT FOR CROSS-PLATFORM APP DEVELOPMENT
AN ULTIMATE GUIDE FOR ON-DEMAND CAB & BIKE BOOKING APPLICATION