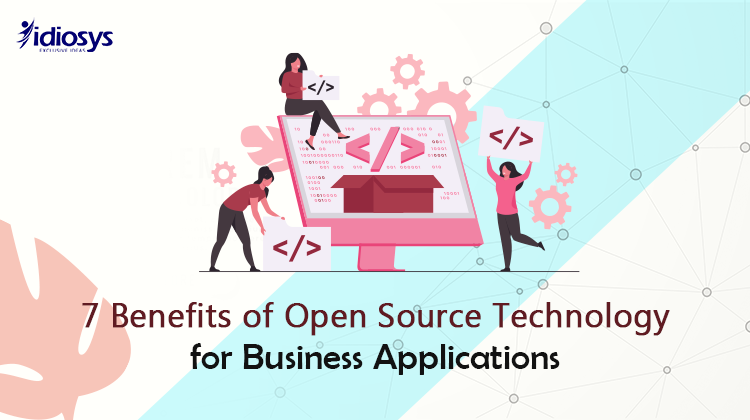 08 Nov,&nbsp2022
Open-source technology is making it more beneficial for businesses while running their applications. That's why almost every IT consultant company is nowadays looking forward to it. And so, if you're interested to know the benefits of OSS technology for business applications, here you go. In this post, we are going to share our insights on open source technology and explain the 7 benefits of it. So, without any further delay, let us begin by telling you what OSS is all about and then, we'll explain the benefits respectively.
What is Open Source Technology
Open source technology refers to a source code which anyone can use, change and rearrange. It's a publicly accessible code that can be distributed by any user. The code is developed in a collaborative way and the purpose is to help the entire community of its users.
7 Benefits of Open Source Technology for Business Applications
Here are the 7 biggest benefits that software consultant companies can get from open source technology in their business apps.
1. Flexibility: Open source technology comes with a softer learning curve, which helps the companies learn and nurture it easily. The users can get these technologies from any repository and then use them without any foundation. No building block or barrier comes between the software and its developers, who can get access without any licensing.
2. Reliability: When you opt for open-source software, reliability is ensured by expert developers. You'll find a great community who are ready to help in case of any glitch. All your problems will be resolved quickly and the process will be streamlined. Secondly, open-source technologies are free of error as they are mostly developed for general use.
3. Scalability: The scalability of your projects will increase as you choose open-source software. There are technologies available that can help you to start with limited resources and then increase the scalability as your resources increase. As a result, you will be able to make use of the technology as per the needs and goals of your company and projects.
4. Security: Every company wants to ensure security when it comes to choosing technologies for their business apps. That's why open-source software can be the best thing for your IT consultant company. Open source doesn't mean your confidential business data will be lost in transition or leaked by some unknown entity but just the opposite.
5. Convenience: The licensing schemes offered by open-source technologies are really convenient for the users. That's because most of these are pay-per-use. It's one of the biggest advantages of using open-source software and especially, if you're in doubt about how the software performs and want to give it a try, open-source ones will be the best option.
6. Integration: If you compare proprietary software with open-source software, one of the biggest differences will be integration. Open-source is really quick compared to proprietary software. The community of developers are quite helpful when it comes to solving problems, which ensures easy and quick solutions every single time you're in trouble.
7. Budget: One of the major concerns for companies when choosing software for business apps is the budget and there are obvious reasons for it. With open-source software, you don't need to worry as much as you had to do with proprietary software. Open-source software doesn't require licensing and hence, you can reduce the overall budget of development.
Now that you know all the benefits of open-source technologies for business applications, just go ahead and choose one for your specific needs. If you're looking for an IT consultant company that uses the best open-source software for developing feature-rich apps and websites, look no further than us. We have a team of highly skilled and experienced developers who can customize your business app as per your preferences. So, why wait anymore? Contact us today to know the best package and deals for your project.