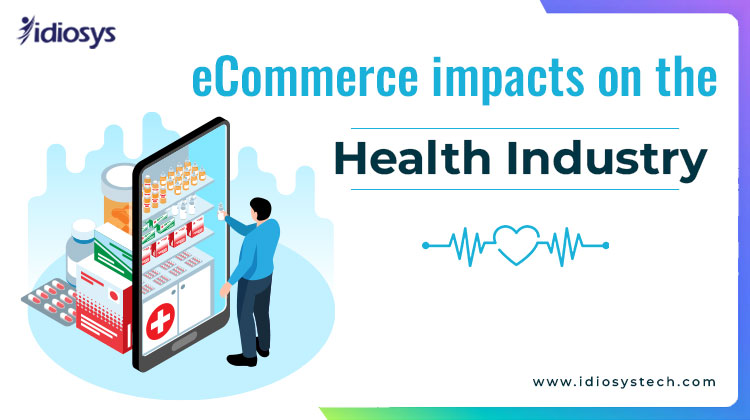 28 Oct,&nbsp2022
eCommerce has made our lives easier by letting us shop online from the comfort of our homes, be it for apparel or medicines. But, surviving the global pandemic was a time when eCommerce became a necessity for most of us. And for all these reasons, we can never deny the fact that eCommerce has hugely changed the way the healthcare industry used to perform a decade before. Today, IT solutions for healthcare industry are more in demand than most other industries. So, what are the overall eCommerce impacts on the health industry in 2022 and the future? Let's quickly explore!
Statistics: The eCommerce healthcare market is expected to expand to about $613.94 billion in the next four years. That's a sign of its reliability and demand among people across the globe. And the main reason is the easy accessibility of these apps via smartphones.
Healthcare is a vast market all over the world that's going to reach up to USD 178.5 billion by the end of 2022, which was USD 153.6 billion by the end of 2021. These statistics show how hugely healthcare is going to be impacted and evolved by eCommerce.
Quick Delivery: Healthcare and wellness organizations are moving towards eCommerce more and more because it's allowing them to provide quick delivery of their services and products. And it's quite evident if you consider emergency services or medicines.
Be it medicines for blood pressure, diabetes and other health conditions that the patients need daily or the ones for acute diseases, shopping online has made the whole experience easier for all of us and especially for the elder people who need special care.
Better Communication: Gone are the days when you could visit healthcare professionals only in person or otherwise, you had to call them up, send messages or mail. Today, you can visit your nearest physician and book appointments via an app.
And that's the best part of eCommerce healthcare systems. And this communication has not only improved between patients and doctors but also between hospitals and healthcare organizations. It's a unique opportunity for all of them.
Convenience: The providers of IT solutions for healthcare industry have made it way more convenient for patients and healthcare organizations to connect with each other. And therefore, it has helped organizations to provide better services to a wide number of patients.
And there are items that you need on a daily basis such as diapers for your kids, milk feeds, protein shakes, health drinks and more that are available in pharmacies. Today, you can shop online for all these necessary products from an online pharmacy and expect delivery within a few minutes.
So, these are the impacts of eCommerce on the healthcare industry that are going to change the services drastically in the coming years. Hence, if you are wondering whether to invest in an eCommerce healthcare app, just go ahead. We at Idiosys Technologies provide top-notch IT solutions for healthcare industry with a team of highly skilled and experienced web and app developers. So far, we've made an extensive number of clients happy all the way from India, Canada, the USA, Germany, Australia, Brazil, the UK and Panama with our top-notch services. To know more about our wide range of services and packages, you can feel free to get in touch with us.