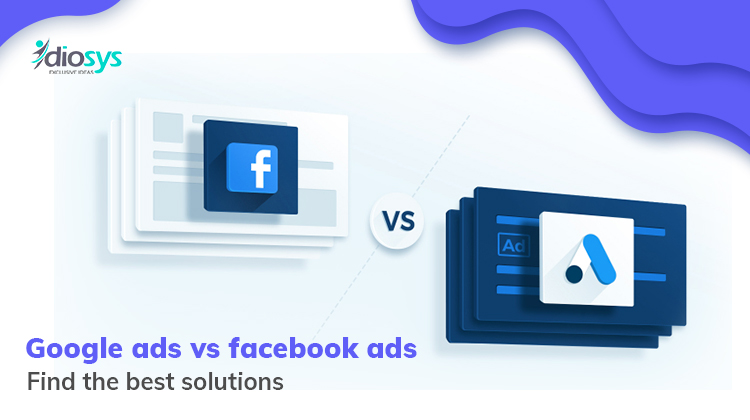 07 Apr,&nbsp2020
Although Google vs Facebook has always been good competitors, you can use both as a part of your advertisement. Today, we are living in a world of digital exploration, thanks to the web developers and marketers across the globe, who are inventing new paths and discovering new trends of digital design and marketing. The professional service of online marketing is offered by an online marketing company. One of the best parts of this exploration is that the online portals have become a great platform to showcase one's products. It is called digital advertising and it has perhaps become the most successful method of advertisement today.
We all know that most of the global population today are connected via search engines like Google and networking platforms like Gmail and Facebook. Hence, these two have become some of the most successful platforms for online advertisement and marketing. Here, we will proceed to a comparative understanding of how these two works and then try to find the best solution among them for your specific needs.
Google AdWords and Facebook Ads: A Brief Introduction
Developed by Google, the AdWords is an online advertising platform where you can display and promote your brand in various methods. There are many forms of advertisements and service offerings, product listings, video content that this platform offers to its global users. Also, it provides mobile and other devices navigations that truly help the users. It offers both paid and non-paid advertising opportunities.
Facebook is one of the most popular social networking platforms today and it too has introduced interesting methods of advertising your brand. From the start-ups to the big enterprises, all are fascinated by the advertisement opportunities provided by Facebook. Just like the other platforms, it too provides you options to choose from paid and non-paid advertisements. Of course, the paid packages give you a higher reach than the others.
The Scopes of Google AdWords and Facebook Ads:
. You can build brand awareness
. You can increase the spread of information
. You can drive buyer behaviour
. You can provide reminders to curious buyers
. You can use repetition to improve sales
. You can provide multiple purchase pathways
The Advantages of Google AdWords:
1. A wide range of formats: Google AdWords provides you with a wide range of advertisement formats. In fact, it is one of the pioneers of online advertisement. It has two networks known as the Search network and the Display network.


2. Global Audience: As the most popular search engine, Google boasts a huge number of audiences and therefore, you will get global recognition for the advertisement. As the report shows, it handles more than 40,000 search queries every second.



The Advantages of Facebook Ads:
1. Vast Audience: Just like Google AdWords, Facebook ads are popular due to the hype of Facebook in almost every corner of the world. About more than 1.55 billion users are active on a monthly basis on this platform and you can reach out to them through creative ads.


2. Inherently Visual Platform: One cannot deny the comfort of using Facebook app or website, thanks to the visually pleasing design and the simple format. Hence, the scope of making more visually pleasing and engaging ads via Facebook is higher.



The Best Solution:
Above is a comparative analysis of both the ads and to find the best solution, you need to be specific about your business or personal goals. You can consult with a marketing professional or a digital marketing company to find out the best solution that will cater to your choices and preferences. However, you need to be specific about your target buyers in terms of product advertisement. To create awareness through campaigns, you need to focus on the plan and strategy based on any of these platforms.
So, what are you waiting for? Hire an internet marketing company today and experience effortless marketing. If you are looking for the same, here you go. We, Idiosys Technologies, are one of the highly recommended names globally when it comes to digital marketing. As we also provide professional services in app development, web development, and business development, we give our clients a skilled and experienced approach for all their requirements. To know more about our services and packages, feel free to get in touch with us today!