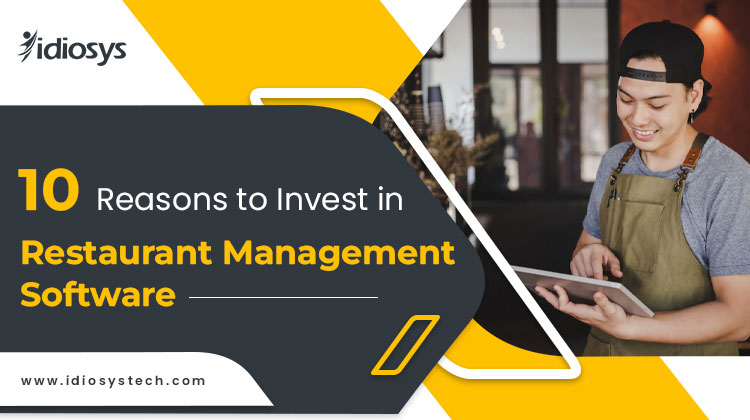 14 Oct,&nbsp2022
Restaurant management software can help restaurant owners and managers to accelerate their overall performance by keeping track of daily operations. Managing a restaurant involves multiple tasks that need to be organized daily. This is where restaurant management tools come handy. Equipped with features like inventory management, booking systems, floor planning, payroll management, reservations, scheduling, online orders and much more, these tools can help restaurant owners to make the most of all day-to-day activities and staff management. If you're looking for restaurant solution providers who can provide you with the best restaurant app, you've come to the right place. But, before discussing our restaurant management plan, let us share the 10 reasons to invest in restaurant management software. Once you know all these reasons, making a wise decision will be easier for you.
1. Increased Productivity: Your productivity is bound to increase with the use of a restaurant management application. That's because the application will let you keep track of each and every segment of your business that is mentioned above. If your restaurant staff gets access to the app, they will become more efficient with the help of better technology.
2. Faster Management: A restaurant management app will make sure that you can enter the orders, reservations and other requirements with just one tap. This method is way faster than manually writing all the requirements or typing them on your computer. And if you can find an app that covers all your business areas, the entire process will be faster than ever.
3. Effortless Management: The task of a restaurant manager is quite complicated and it needs a lot of effort. But, with the help of a restaurant app, you can minimize it to a great extent. As the manager will be able to keep track of the workflow, inventory and other things by looking at the smartphone, the management will be faster, effortless and free of error.
4. Cost-Effectivity: Initially, you must be thinking that investing in a restaurant app may cost you a big budget. But, in the long run, it'll increase the quality of your service and help you to gain more profit from it. Another advantage of building a restaurant app is that it can minimize the cost of resources as the app can perform the task of multiple management staff.
5. Flexibility: Storing data is a big concern for hotels and restaurants but not anymore with the advanced restaurant management apps that the restaurant solution providers are developing. Storing data in the cloud makes these solutions flexible as you don't have to look for them on your in-store devices. Instead, you can check them on the go or during travel.
6. Full Integration: What makes restaurant management apps stand out among others is that these apps are fully integrated. It means that these apps contain every necessary feature of restaurant management. You can reduce the inefficiencies and longer processes that often restaurant tasks involve. And with a fully-integrated app, you can also reduce the chances of manual error.
7. Automation: In restaurants, there are repetitive tasks that the manager or staff have to perform daily. However, these tasks can also be performed via software and applications. What a restaurant app does is that it automates such tasks and saves professionals from the labour of performing such repetitive tasks on a daily basis.
8. Account Management: The best restaurant apps also offer account management, which is a crucial part of restaurant management. And since the account will be managed by software, the chances of human error will reduce to a great extent. This is one of the biggest reasons why you need to invest in restaurant management software.
9. Customer Service: Every restaurant thrives to provide the best customer experience that they can vouch for. But, there are so many tasks such as table planning, schedule management, shift management or reservation management, which can make it difficult to achieve. But, with your restaurant app, you can take care of all these tasks easily.
10. One-Stop Solution: Restaurant management is a responsibility that involves endless tasks and that's why restaurant managers and owners need a restaurant app that can be a 360-degree solution. Since these apps are fully-integrated, managing day-to-day operations become really easy for the owners, managers as well as restaurant staff.
Now that you know the 10 reasons to invest in restaurant management software, just go ahead and find the one that suits your needs and preferences. And if you're already looking for one, you can feel free to contact us. We at Idiosys Technologies provide web and app development services with a team of highly skilled and experienced professionals. So far, we've made an extensive number of clients happy all the way from India, Canada, the USA, Germany, Australia, Brazil, the UK and Panama with our top-notch services. We are one of the top restaurant solution providers worldwide with an impeccable dedication towards finding out the best. So, without any delay, get in touch with us and share your requirements.