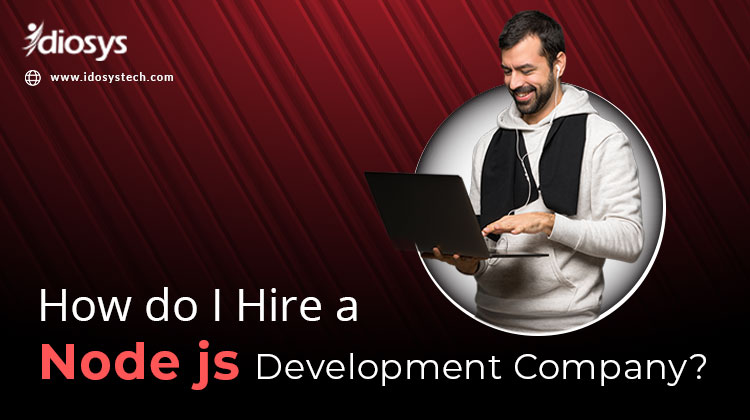 29 Dec,&nbsp2021
Node.js is no doubt one of the best IoT platforms around the world. It is considered to be more advanced in the coming years. As a back-end JavaScript framework, it is widely used by skilled developers to build feature-rich and highly scalable web and mobile apps. And so, if you are planning to hire Node.js developer for your business, here are some tips that you can follow.
From healthcare to fashion, e-learning and IT, all the industries require an online presence nowadays to promote their companies, products and services. For this reason, choosing the best framework is essential. Since there are so many Node.js developers available across the world today, finding the best can be problematic sometimes. No worries as we can ease your hiring process.
But before we start explaining how you can hire the best Node.js development company, let us give you an overview of the framework. It will help you to narrow down your search better.
What is Node.js?
As a JavaScript code execution environment, Node.JS is quite popular among programmers. It requires Chrome V8, which is basically a JavaScript engine for translating JavaScript calls into machine code. Introduced in 2009, by American developer Ryan Dahl, this platform mainly focused on events. While the other platforms mainly focused on one thread for each connection, this one had its main purpose in building scalable network servers. Since then, the platform has gone through much advancement to become a stand-alone command-line tool today. The platform definitely excels in developing fast and scalable applications. Below are the reasons for choosing Node.JS for your business.
1. Node.JS has the ability to use the same language on both the client and server-side
2. Node.JS provides excellent speed of working
3. It provides a huge number of free tools
4. It allows you to create lightweight applications
5. There is an opportunity to use JavaScript syntax
6. There is better efficiency and overall developer productivity
How do I Hire a Node.js Development Company?
Here is how you can hire the best Node.js development company for your business:
1. Shorten the Interview Process: As there is a huge demand for Node.js development companies, lengthy and redundant interview processes can make you lose the best companies. Hence, it's crucial that you keep the process precise and shorter. However, make sure that the quality and effectiveness are maintained while shortening the interview process. Otherwise, you'll end up hiring the wrong developers.
2. Consult a Team Expert: If your company has a Node.js expert or any individual who has some knowledge about the framework, you may consider consulting that team member while looking for the developers. It will not only save your time and effort but also will minimize the chances of choosing the wrong company. The ambitious professionals from your team will surely help you to grow personally and professionally.
3. Make a Good Presentation: Why should a web development company partner with your company? This is the question you need to ask yourself and be ready with the answer as well. When choosing a Node.js development company, you need to rehearse well your sales pitch so that the programmers understand your needs and preferences well before joining. You can describe your product stacks and the advantages of joining your company clearly.
4. Extend the List of Benefits: The competitive salary rate should be maintained but on top of that you need to provide some extended benefits such as paid vacation, health insurance, paid leaves and sponsored activities even if they are working remotely. These benefits will surely promote work culture, helping the developers to come up with newer solutions for your company. As a result, you will be benefitted from a better performance.
5. Look for Experienced Company: Whichever service you are opting for, hiring experienced companies are always better than choosing a start-up. As you plan to hire Node.js developer for your business, always look for a company that has previous work experience in your domain. For example, you are from the healthcare industry. A web development company that has worked in this domain is always a better option.
6. Compare Pay Scales: Here comes budget, the most important aspect of choosing any service. Web development requires a good budget because it includes some essential tools and most importantly, time. Hence, you need to set your budget while looking for this service. In this context, always remember that a cheap service doesn't mean quality service. Therefore, look for an experienced company that gives you a moderate budget.
As you can see, the task of hiring a Node.js development company can get complex in multiple stages. You may end up wasting a week or two just scrolling down websites with no conclusion. Hence, simply follow our above tips to make the process easier and more interesting. We're sure you'll find the best Node.js development company for your project when you follow the above tips correctly.
If you are planning to hire Node.js developer for your upcoming project, look no further than us. We, Idiosys Technologies, are one of the most eminent web and app development companies providing a plethora of services including Node.js app development. Headquartered in Kolkata, we basically provide web development, app development and marketing solutions to a huge number of multi-national and start-up companies from India, Canada, the USA, Germany, Australia, Brazil, the UK and Panama. Our expertise and long experience in the industry has made us one of the top web development and IT companies in India. You can hire the most efficient Node.js developers' team and Node.js framework experts from our company to boost your online presence. So, why wait anymore? Contact us today to know the best deals we can offer you.
YOU MAY ALSO READ
TOP 10 ADVANTAGES OF USING LARAVEL FRAMEWORK