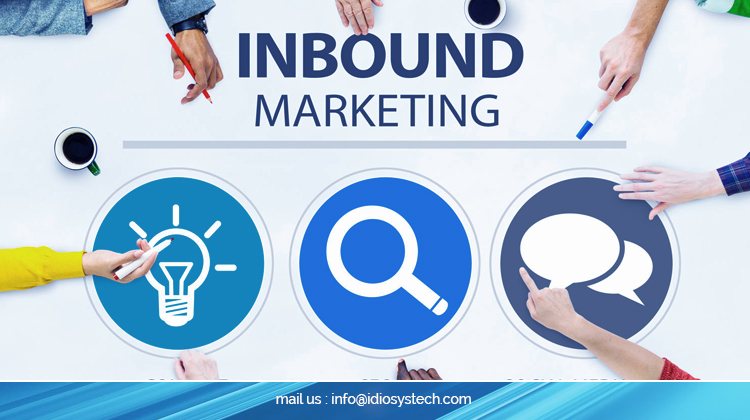 20 Apr,&nbsp2017
Nowadays, every brand is present on the every possible platform of the Internet. For brands promotions the marketing companies choose different away to promote their product or service to online world. Online buzz helps to create brand identity and here social media marketing or digital marketing executes the planning.
Inbound Marketing is the process of attracting the attention of prospects, via content creation, before they are even ready to buy; it's one of the best and most cost-effective ways to convert strangers into customers and promoters of your business.
Inbound marketing provides information, an improved customer experience and builds trust by offering potential customers information they value via company sponsored newsletters, blogs and entries on social media platforms. Compared with outbound marketing, inbound reverses the relationship between company and customer. In fact, while outbound marketing is going to push the product through various channels, inbound marketing creates awareness, attracts and helps new customers with channels like blogs, social media, direct mail etc
To work well, inbound needs a very precise process that, provide to marketers a very huge competitive advantage compared with outbound marketing. The process is composed by four main steps, which are as follows:
1. Attract Visitor: Attracting the right traffic to your website is the foremost objective of inbound marketing, and some of the important tools to attract the targeted audience to your sites are, blogging seo, social publishing, and much more.
One of the most important difference between outbound and inbound marketing is the fact that classical marketing is betting on those people, inbound is betting on that person.
2. Converting the visitors: once visitors are attracted to your website, the task that follows is to convert those visitors into leads by gathering their email address or contact information. With optimized landing pages, forms, and compelling calls-to-action marketers convert these visitors into qualified leads. Contact information is the most valuable currency there is to the online marketer so give them premium content in exchange for it. This includes eBooks, whitepapers, infographics, case studies, and tips sheets.
3. Leads to customers: Transforming the leads into customers can be accomplished with the help of certain marketing tools which will make sure that you are closing the right leads at right times. With Call-to-action tool marketers can generate a positive value both for customer and any brand. Generating useful contents and sending it periodically to our prospect we can create.
4. Keeping the customers delighted: the way of inbound marketing is all about providing remarkable and entertaining contents to users, whether they are existing customers, leads or visitors.
Once someone becomes a customer, share content with the customer helps them better use your product or services and delight them as a partner and thought leader
If you also want to utilize the benefits of digital marketing to enhance your business, then you can join hands with Idiosys Technologies.Innovative and unique marketing strategies provide the perfect opening for your business target audience with best results.
YOU MAY ALSO READ :
IMPORTANCE OF USING HASHTAG FOR SOCIAL MEDIA?
HOW SOCIAL MEDIA CAMPAIGN INCREASE SALES?