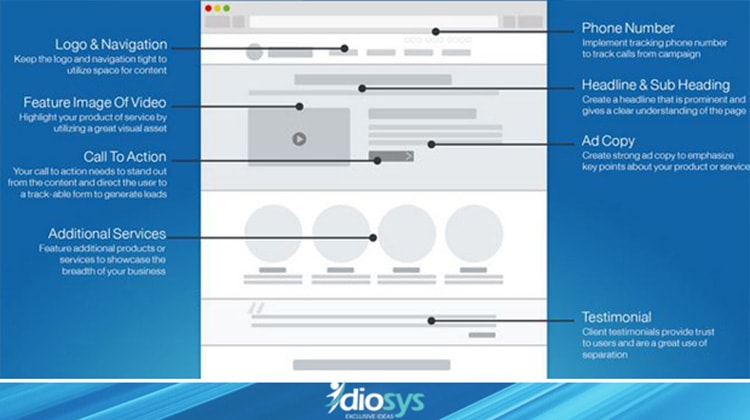 28 Oct,&nbsp2016
In online marketing, a landing page sometimes known as a "lead capture page" is a single web page that appears in response to clicking on an optimized search result or online advertisement. The general goal of a landing page is to convert site visitors into sales or leads. Landing pages are often linked to from social media, email campaigns or search engine marketing campaigns in order to enhance the effectiveness of the advertisements.The main aim to design a landing page is to attract the visitor and establishing a brand's identity. Let's look into some basic points to make a successful landing page.
1. Use Eye-catching headlines: The Headline of a landing page is the best attractive elements for the visitor. Most of time visitors look first at headline then they see other context. Looks and feel of any landing page very crucial for its success. Your landing pages are independent or separate from your main website but keep in mind that the theme should match or complement your main website theme. Use particular set of colours, graphics that include your company logo, and other visual elements of your main website. This can improve brand awareness.
2. Use Proper Call to Action: Call-to-action (CTA) buttons on your landing pages to guide users towards your goal conversion. It's the part of the landing page that the user needs to click in order to take the action you want them to take. CTA buttons can vary in style and size depending on your goal conversion and website style.
3. Use Shorter from: Web visitors have a tendency to back out from filling out a long and stretchy landing page form. A short form is easy to go through. If your form needs a lot of fields, better try making it appear shorter by adjusting its styling. A short and simple form must be evaluated as a key element of a landing page.
At Idiosys Terchnologies, We create unique landing page or lead capture page accoding google latest upadtes.So it creates impact on your marketing strategy. We provide result oriented advanced digital marketing service for our clients including India, Bangladesh, united states, United kingdom,Germany and Australia.
YOU MAY ALSO READ :
WHY CUSTOM CMS WEBSITE DESIGN IMPORTANT FOR YOUR BUSINESS?
THE ADVANTAGES OF CHOOSING YII FRAMEWORK