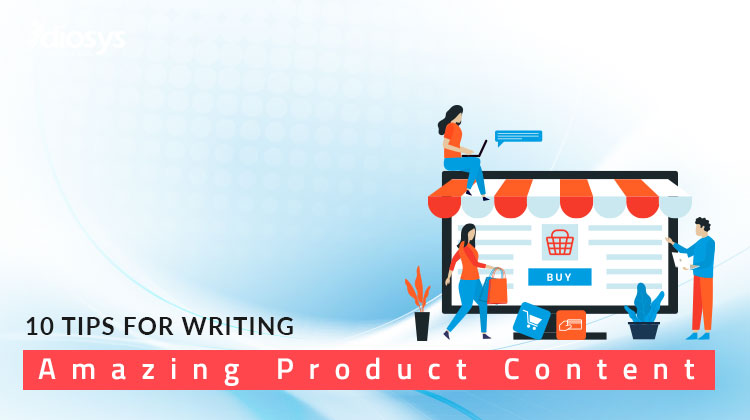 29 Aug,&nbsp2020
Are you looking to hire professional content writer for creating amazing product content? If yes, then here are some useful tips that you need to know before choosing a suitable person. These will give you an idea of what kind of work you would expect from the person. Or, if you are an aspiring content writer looking for fresh and innovative ideas to write product content, these tips are for you as well. These will surely help you to create your niche in this subject. So, without any further delay, let us explain these tips with you.
1. Know Your Buyers: Before you start writing product content, you need to know your buyers and once you do it; you need to research your buyer personas. This way, you can keep a complete track on what is important to write. Then, you can simply define your buyers with the best approach.
2. Create a Template: Usually, you need to follow a serial order to explain all the features while writing product descriptions. You can easily create a template that you can follow in every article. This way, the articles will look more organized.
3. Take it Easy: Flurry sentences can only jumble up the ideas, making it quite difficult to understand. Instead, you need to simplify the sentences and ideas so that they reach to your readers. You can use separate sub-headings and bullet lists to highlight some points.
4. Do Keyword Research: To optimise your product pages, you need to do keyword research. Depending upon the product you are writing about, choose probable keywords and also search for the best-ranked ones. The providers of the best content writing service always create keyword generated content using the right strategies.
5. Create Product Titles: Just like the blog posts, product titles are very important. The title needs to be keyword focused so that you can easily optimise your page them. While writing manufacturer products from suppliers, you can choose alternative titles.
6. Add Features & Benefits: The main reason for writing product content is to explain to the readers about your products. You need to clearly explain every feature and benefits so that the readers finally get convinced to buy them or at least check them out.
7. Give Specifications: Starting from product dimension to its weight, all these things matter and therefore, you need to always mention them in the content. You can find the specifications from the manufacturing brand websites or any shopping portals.
8. Be Persuasive: This point is quite similar to the first point and that is knowing your readers. Once you are done with the research, start your content with a persuasive approach like how will your product make their life easier or what will be the main benefit of purchasing a product.
9. Use Statistics: When you use statistics in any content, it becomes more reliable for the readers. As a result, they show further interest in looking at your product. For instance, if you are writing about a power bank that charges 50% faster than the others, you can mention them (only after research).
10. Keep It Concise: While writing on some products, you may feel that there is not much information and you simply cannot write for the sake of writing. In these cases, keeping the content concise is what you can follow. However, do not make it too short as well.
When you know these above 10 tips on improving your product content flare, creating unique and persuasive copies is easier. If you are on the lookout for the best content writing service for product description and more, you can go ahead and get in touch with us. We have a team of highly skilled content writers with long experience in product content, blogs, web content and more. So, why wait anymore? Feel free to contact us for more details related to our services and affordable packages.
YOU MAY ALSO READ
GUIDE TO THE WORLD OF CONTENT MARKETING
8 BEST JAVASCRIPT FRAMEWORK FOR 2020