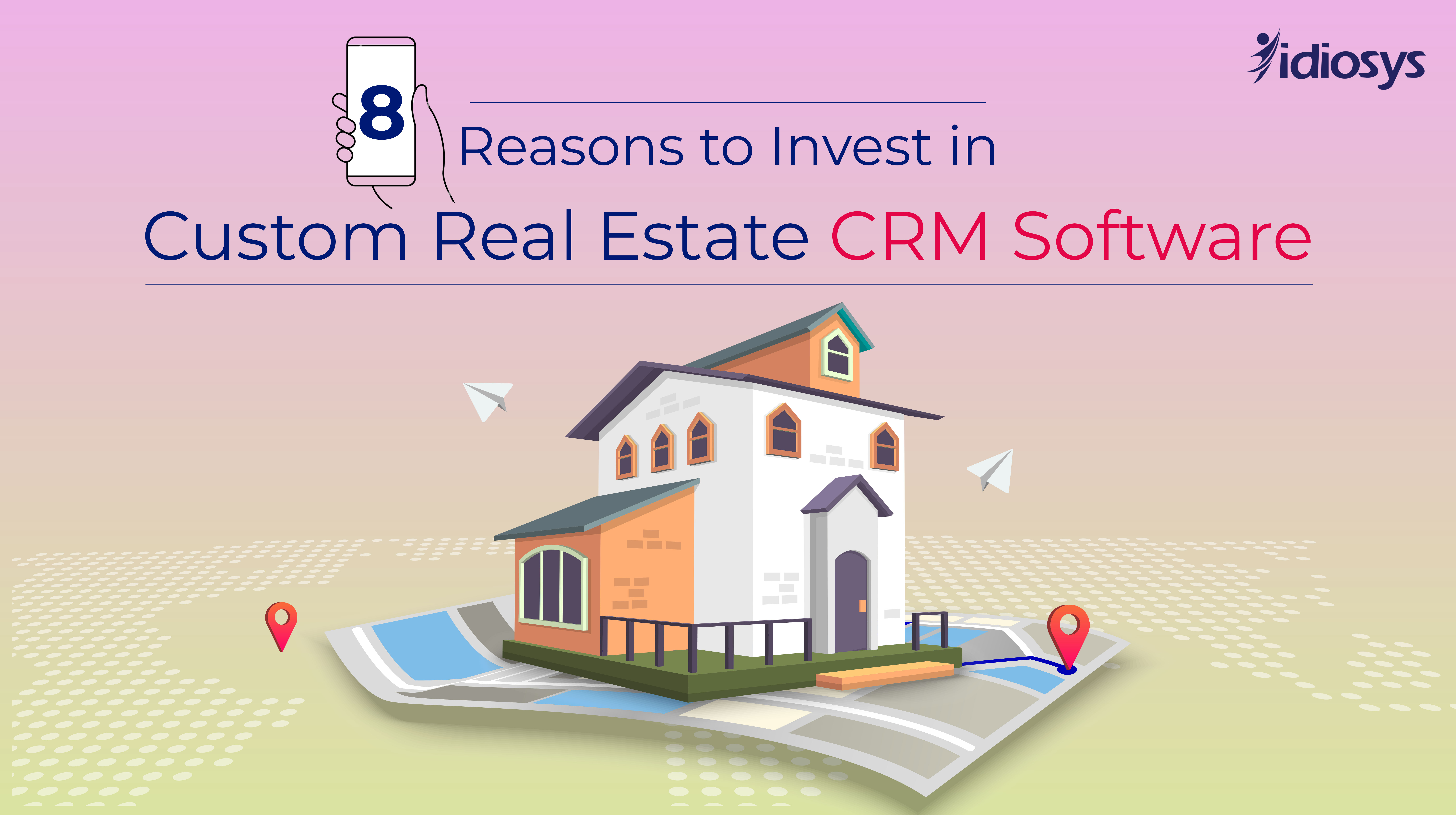 08 Aug,&nbsp2022
The real estate industry is one of the busiest ones today where the agents have to multitask almost every day. Among all such tasks, CRM or customer relationship management is a vital one. After all, satisfying customers with prompt assistance and the latest updates is a must for real estate companies. And so, if you're owning or working in a real estate firm, it's essential to switch to real estate software for CRM.
Today, you'll get plenty of options when it comes to choosing a real estate app for CRM. But, it's important to go for the one that offers scope for customization. That way, the app will perform according to your specific needs and preferences, which can hugely vary from other companies. Usually, some of these apps can be customized but first, you need to know the reasons why you should invest in these apps.
So, without any delay, let us explain to you the 8 reasons why you should invest in custom real estate CRM software. But, before that, we'll also explain why CRM is important for real estate.
What is CRM?
CRM is basically a tool for managing the customers of a company. This tool helps you to communicate with your potential and existing customers easily. It's a marketing tool to improve business sales by asking the customers about their preferences and helping them to find the right solution. The tool also helps the companies to keep a healthy relationship with the existing customers by providing after-sales services and special offers. Overall, CRM helps companies to improve their brand value by satisfying their customers in every possible way.
Why CRM is Important for Real Estate?
In the real estate sector, companies have a lot of responsibilities when it comes to improving customer satisfaction. These companies not only have to sell the properties but also have to get new properties and search for potential customers. Hence, CRM can work as a productivity tool for all the real estate companies out there. It's a time-saving tool that enables real estate agents to perform each of their tasks with promptness. The tool can also save the effort that goes into these performances to a great extent. That's why CRM is important for real estate.
8 Reasons You Should Invest in Custom Real Estate CRM Software:
1. A One-Stop Solution: The best part of custom real estate CRM software is that it works as a one-stop solution where you can get centralised customer information. You can send your customers emails, contact them via call, track their activity and also get a complete view of their engagement- all within the app. Additionally, you can also assign tasks to your agents, add notes about these tasks and create appointments with your customers via the app. That's not all as you can also upload your contract files, agreements of purchases and related documents on the app.
2. Leads Generation: For any company, generating leads is a big task and a real estate company is no exception. Leads usually come from the official websites of real estate companies or from offline marketing. Here, it's really important to analyse what are the requirements of these leads in order to make a successful sale. Interestingly, the companies had to do all these tasks manually before custom CRM tools existed. Today, a custom CRM app can perform these tasks automatically and show the users the latest updates on their leads and their activities.
3. Cloud Management: CRM apps or tools can help real estate companies in cloud data management. As mentioned above, the companies can upload their company data such as contract files and purchase agreements in these tools. There's no fear of data loss as everything is saved on the cloud. Additionally, these apps are integrated with high-security standards. Hence, all the company data remains safe and secured without any chances of leakage. Plus, the admins can keep the confidential files restricted from the access of other users in these CRM apps.
4. Improved Productivity: Just like any other company, a real estate company comprises multiple departments or teams. These teams are assigned different tasks that the managers need to control. A CRM app can help managers to keep all this information organized. The marketing and sales teams both work together for CRM management. A CRM tool works as a bridge between these two teams, which can boost overall productivity. Each team can share valuable client information with other teams, which increases efficiency and saves time.
5. Prompt Customer Service: The main purpose of real estate software for CRM is to improve customer satisfaction. Customers are only satisfied when they get prompt assistance or a reply from the customer care team of real estate companies. Those days are gone when the customer care executives of real estate companies had to take notes and make calls manually. Today, with the help of custom CRM apps for real estate, they can perform all these tasks automatically as the apps suggest them. The entire process has become much faster, which has improved customer service.
6. Automated Documents: It's evident that real estate companies have to deal with more documents and paper works than any other company. That's because every property has its set of valuable documents that they need to present to the buyers and also receive some important documents like purchase contracts from the buyers. A real estate CRM tool can automate the process of documentation, leading to zero chances of errors or document losses, which was never possible before when everything was manually processed.
7. Better Reporting: For real estate companies, data plays a pivotal role in daily operations. Miscalculated data can lead to a huge loss, which makes it a big concern for the owners. Especially, real estate start-up companies are prone to miscalculated data as they aren't as proficient as the big giants. However, a real estate CRM tool can be a saviour for these companies, helping them with an improved reporting process. Some apps can generate personalized reports automatically. Moreover, the dashboard of these apps is so simple that the users can easily find out relevant customer information. The entire process becomes error-free from the very first day.
8. Easy Management: Finally, CRM tools for real estate can help project managers with an effortless management process. The project managers have to create different teams for different tasks and assign tasks to these teams. They need to check for regular updates and set timelines for each task. Today's advanced CRM tools for real estate are integrated with project management features, which can help the managers with a smooth performance. From assigning tasks to setting the timeline and checking updates, all can be automated in these apps.
Now that you know the 8 reasons why you should invest in custom real estate CRM software, just go ahead and make the most of it. If you're looking for an app development company that can build scalable and feature-rich real estate software for your company, look no further than us. We at Idiosys Technologies provide premium quality app development and web development services to a huge number of clients from India, Canada, the USA, Germany, Australia, Brazil, the UK and Panama. Our team of highly skilled and experienced app developers can help you create custom real estate CRM software that includes all the above features. So, why wait anymore? Contact us today to know in detail about our services and packages.
You May Also Read
Social media marketing or social media management: What is best for a new business?