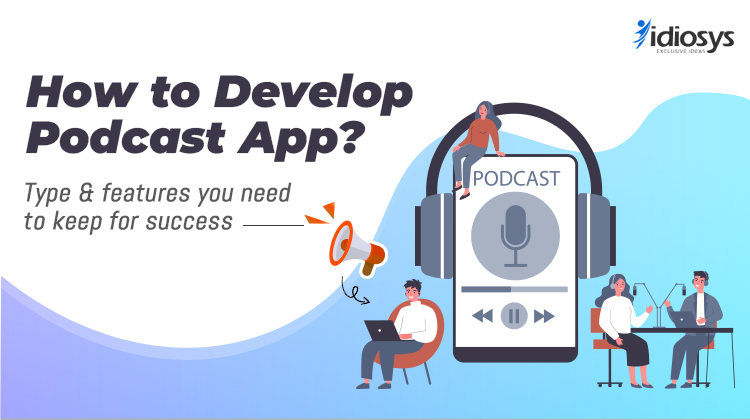 21 Aug,&nbsp2023
The podcast app industry is thriving today with millions of active listeners from across the globe. According to reports, the number of podcast active listeners has increased to more than 460 million globally. And so, if you've been thinking of developing a podcast app anytime sooner, you need to know the basic fundamentals of podcast application development.
While you can hire app developer to turn your dream podcast app into reality, here are some useful tips that might help you in the process. Knowing about all the different types of podcast apps will help you choose the most appropriate one that suits your needs. Also, the features of your podcast app will help you succeed in the long run, which we will discuss below.
All about Podcast Apps
Digital audio files or audio-visual files that can be shared via the internet are known as podcasts. The listeners can either download those files on their devices or listen to them online. There's also an option of saving your favourite podcasts and playback later. The apps featuring podcasts are known as podcast apps.
Interestingly, if we break the term podcast, we will get two separate words. These are iPod and broadcast. It means that podcasts were initially made keeping in mind the popular device iPod. But, today podcasts are available for every operating system including Android, Ios, macOS, Windows, Alexa and more.
Podcast App Types
Below are the multiple types of podcast apps you can choose from while creating your own app.
1. Repurposed Content: As the name suggests, repurposed content podcasts are the old files that you already have in your record or backlog. All you need to do is upload these files in your app by converting them into audio file format. Usually, repurposed content is more informative in nature and covers the topics such as workshops, celebrities, lectures, etc. These are widely popular as many listeners want to be informed about the topics they cover.
2. Panel Discussions or Interviews: These are the ones featuring interviews of reputed guests or panel discussions among multiple guests. Panel discussion and interview podcasts can be both audio files and audio-visual ones depending on the nature of the show. In these podcasts, the podcast host invites the guests and interviews them about related topics. As we all know, these are quite informative as people love to listen to multiple viewpoints.
3. Storytelling Podcast Apps: One of the most popular podcast app types, storytelling podcast apps are the ones containing a series of stories narrated by the host or guests. The stories are mostly fictional from literature but these can also be real stories shared by the guests. The listeners who love to listen to stories enjoy storytelling podcasts the most if you compare them with other types of podcasts. For this reason, these apps are very much in demand these days.
4. Hybrid Podcast Apps: These apps contain podcasts in multiple formats. In these podcasts, the host usually starts the show with a monologue and then continues with some current topic. Hybrid podcasts also contain guest interviews in which some valuable information is shared with the listeners. The interview or discussion is recorded and then uploaded to the apps. Hybrid podcasts are also quite popular owing to their informative style.
The Features You Need in Your Podcast App
Here are some features that you need to incorporate into your podcast app to make it successful:
· Signup and Login: The first feature is an option to signup and log in for the users. To ensure the convenience of the users, you can keep multiple login options through social media networks. The registration process needs to be simple so that the users enjoy a hassle-free experience.
· Subscription or Membership: The next feature that you need to consider in your podcast app is subscription or membership. If you want to earn revenue through your podcast app, this feature is the most essential. And so, you need to discuss this with the developer during the podcast application development.
· User Profile: Another crucial feature of any podcast app is a user profile. If you create a user profile for the listeners who signup or log in, you will be able to track their preferences and engagement. The users will also find the process of using the app quite useful with this feature.
· Simple Dashboard: For keeping your podcast app useful and convenient for all users, you need to develop a simple dashboard. The dashboard refers to the user profile which we mentioned right above. This task is majorly dependent on the app design, which you need to evaluate well.
· Search Option: The users of your podcast app need some features that they can utilize to improve their experience. Search option with filters plays a crucial role as an in-app feature. With this feature, you will be able to provide your listeners with an option to navigate the app and find useful content.
· Saving and Downloading: The option for saving and downloading the desired content is essential for podcast apps. If you want to develop a podcast app, you need to include these features. The users will be able to save and revisit the content as well as create a storage space with their favourite podcasts.
· Analytics & Tracking: As a podcast app owner, you need to boost the performance of your app gradually. To ensure the same, tracking the behaviour of the users and giving recommendations can be a great way. Also, you can use real-time analytics to track app downloads and other activities.
· Media Player: For podcast apps, configuring a media player is essential. You need to make sure that the users can listen to the podcasts effortlessly in the app. Hence, once you hire app developer, discussing the media player performance in your app is a crucial step that you can't miss.
· Customised Playlists: The users of your podcast app should be able to create playlists so that they can organize their usage of the app. For this reason, enabling the customised playlists option will be the most useful step. You need to add this feature to enhance the user experience of the listeners.
· Recording and Editing Tools: Since your podcasts are mostly audio files, adding recording and editing tools to the app is essential. This way, you will be able to record any file and edit it using the app before uploading. There should also be tools for deleting, copying and editing podcasts within the app.
Golpo Khuro, a Bengali audio story app, was launched by Idiosys Technologies in June 2023. The app features various genres of Bengali stories, such as horror, romance, children's, and adventure. Within a short span of time, the app attracted more than 5K+ downloads from the Play Store and became a popular choice for Bengali audio story lovers.
Conclusion
The above types and features of podcast apps need to be your prime focus while developing a successful podcast app. If you're looking for an app development company that ensures all the above aspects, you can contact us at Idiosys Technologies. We boast a bunch of veteran app developers who know the ins and outs of podcast application development. To know about our services and nominal charges, get in touch right away!