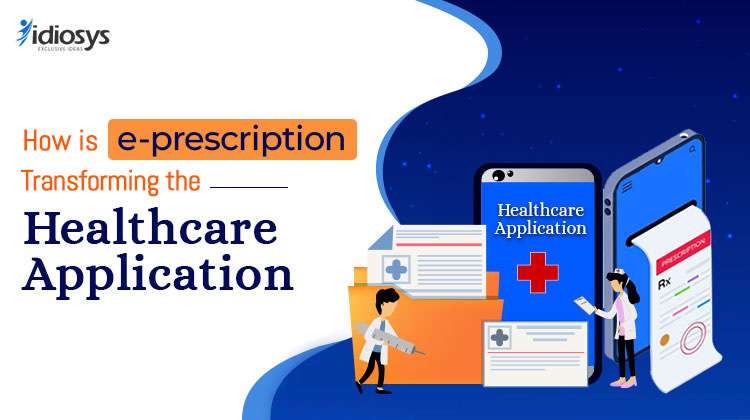 26 May,&nbsp2023
Over the years, the healthcare industry has rapidly developed with the help of the latest technologies. E-prescription is one of the biggest examples of this development, which can transform the entire healthcare system globally in various ways. If you're interested to know how, here's detailed information you'll find useful. In this post, we are going to explain to you how a healthcare application integrated with e-prescription can help you achieve success in future.
But, before we start, let's give an example of how an e-prescription can help healthcare providers. Suppose your organization is visiting a patient who is suffering from an infection and has a history of allergy to certain antibiotics. In this situation, most healthcare experts would ask the patient the name of the drugs they are allergic to. But, if the patient fails to remember the name, it'll be really difficult to prescribe a new antibiotic. This is where an e-prescription is useful.
If you integrate your system with a healthcare app that has an e-prescription, you can track the entire medical history of your patients within the app. Hence, when it comes to checking for certain important information, all you need to look at your mobile, tab, laptop or PC screen and navigate the app. This is how the entire process of healthcare can be streamlined within a single reliable space. Your time and effort will be reduced while ensuring no chances of human error. Now, we'll dig into the topic with more technical and practical insights.
How is e-prescription transforming the healthcare system?
1. Access to Medical History: The first and most important benefit of using e-prescription is access to the medical history of all patients. While it's cumbersome to check files or paper prescriptions every single time a patient arrives, e-prescription is quite specific and accurate. You can easily open your healthcare app and type the patient name to check the medical history of your old patients.
2. No Human Error: With e-prescriptions, the chances of prescription drug errors are minimal. That's because e-prescription apps are equipped with technologies to identify and track the role of drug compositions quite accurately. There are no chances of spelling errors or poor handwriting, which are some common reasons for prescription drug errors, as studies show.
3. No Paperwork: Starting from the cost of papers to the effort of manual inputs, there are so many disadvantages of paperwork in organizations. If you switch to a healthcare app, you no longer have to rely on paperwork, which will lead to a huge success for your organization. And if you care for the environment, reduced paperwork will also contribute to the wellness of the planet.
4. Reduced Loss of Prescriptions: One of the common storage issues in healthcare and other organizations is the loss of data. For healthcare organizations, prescriptions are the most important data that should be stored safely. A healthcare application will make sure you don't lose your valuable and confidential prescriptions as they will be stored in the cloud.
5. Time Efficiency: For the professionals in your healthcare organization, prescription refill requests are quite common. Another common task is the verification of certain prescribed drugs. Both tasks can take a lot of time when done manually, which can delay the overall process of your management. But, a healthcare app can make it possible for professionals to complete these tasks quickly.
6. Timely Notification of Allergies: The reason why e-prescription application development is so popular nowadays is that it has already helped healthcare providers with necessary patient information such as allergies to certain drugs, etc. As reports say, the information has helped organizations from unexpected mistakes and patient dissatisfaction to a great extent.
7. Controlled Substances Use: Unlike regular drugs that are safe, there are certain drugs with controlled substances. If you use e-prescription software, you can easily notify the pharmacies about the prescribed drugs, which can result in immense satisfaction for your patients. This is how a healthcare app can increase the workflow of your organization and satisfy your patients.
From the above advantages, it's clear how e-prescription is transforming the healthcare system across the globe. And if you're convinced now, don't wait any further and reach us today to discuss your healthcare application needs. At Idisoys Technologies, we'll be happy to provide you with the ultimate solution that aligns with your organization's goals and needs. You can explore our website to see what our esteemed clients say about our exceptional app development service.
You May Also Read
How do I Hire a Node js Development Company?