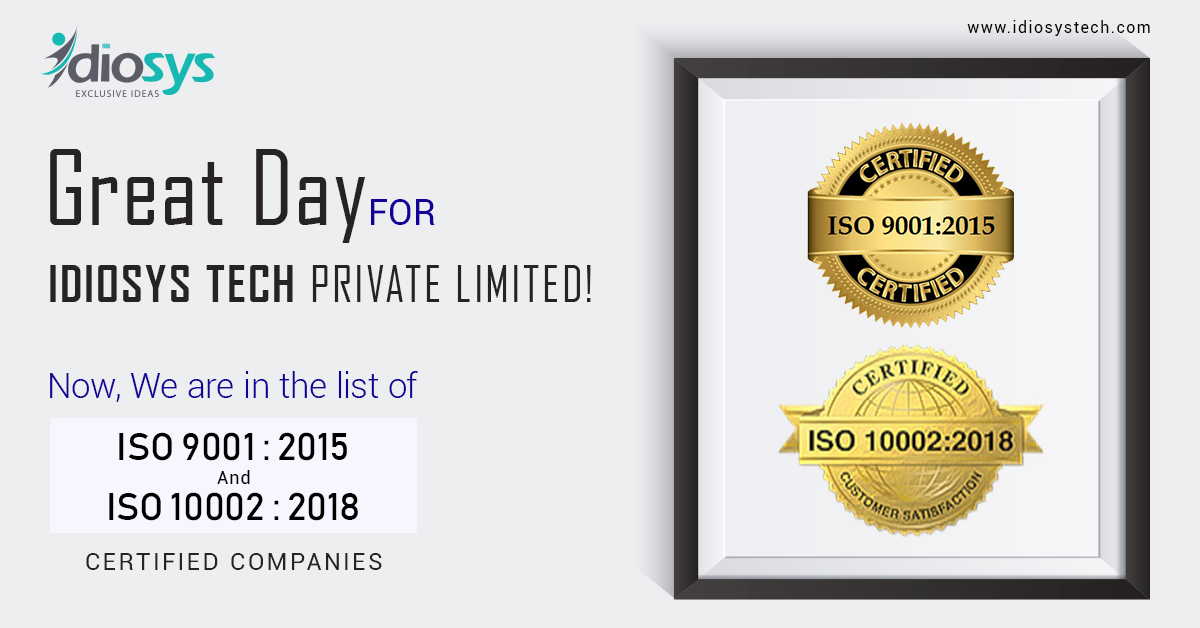 30 Aug,&nbsp2019
The ISO has recently certified the best companies based upon their excellent performance in customer satisfaction. Idiosys is one of the bright stars under this wide spectrum. A mark of excellence does not come easily and there is no exception than working hard for any achievement. Idiosys Technologies takes pride in celebrating this honorary achievement as a mark of their excellence. The Idiosys family shares their proud moment with all the customers who have found their service noteworthy.
Idiosys Technologies is a one stop solution for a plethora of services related to web development and digital marketing. The services include app development, graphic design, digital marketing, web development, web hosting and many more. The ISO has highlighted these services in their certification of quality management. This is indeed a milestone in the journey of the company, as the CEO puts in.
Quality Management: With a team of extra-ordinarily talented professionals, the Idiosys family has been successful in managing their quality and sticking to their terms. Quality management includes various tools that help in reaching to what one aspires while delivering the best. These technical tools are mandatory in evaluating one's own performance and perhaps this is the secret behind the great success. Also, various management strategies are there for the improvement of one's quality control and these have made the success possible.
Customer Relationship Management: The customer relationship management team of any company is responsible for the impact that it creates upon the market. CRM is a vital part of any company for its role as the medium between the company and its customers. Idiosys Technology has a CRM team that sets its own target every day in achieving a better position to understand their client's requirements and respond to their queries. Transparency in communication helps a company to provide reliable services to all its clients and this has been another reason for such a high reputation of Idiosys in front of its vast range of customers.
Astounding Performance: The responsibility is increasing with the high demand for new technologies. The professionals of Idiosys are working relentlessly in finding new solutions to fulfill their clients' requirements. Some of the best achievements of the company so far are the native IOS apps, native Android apps, animation video designs and Task Closet, a free project management application. The superior service in UK, USA, Canada, Panama, Australia, India and other parts of the world is making Idiosys a well-known name in the global competition. The recent ISO 9001:2015 and ISO 10002:2018 will remain as the biggest assets to this leading company.
YOU MAY ALSO READ
REDESIGN YOUR BUSINESS LOGO AND MAKE AN IMPACT TO YOUR AUDIENCE