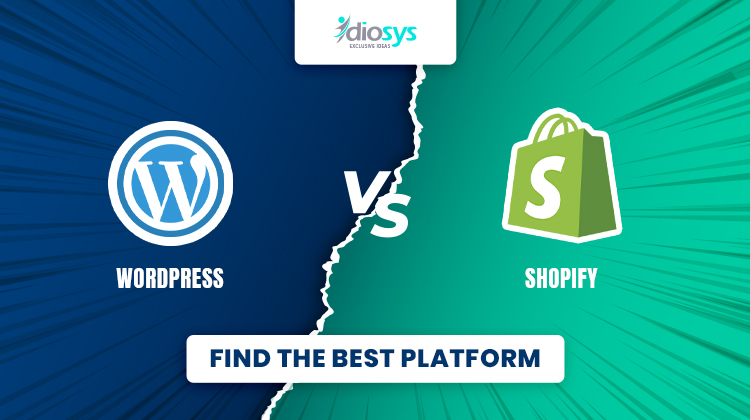 15 Feb,&nbsp2021
Today, it's easier to create your own online store, thanks to platforms like Shopify and WordPress. These platforms have helped business owners across the globe to build online shopping store in the simplest possible way. In this post, we will explore some of the best qualities of these two platforms to help you choose the most appropriate one for your business. Accordingly, you can hire a Shopify or WordPress development company for the ultimate action. So, without any further delay, let us know what these platforms are all about and which one is better for an online store in 2021.
Shopify:
It is a web application specifically designed to allow business owners to build their own online store. At Shopify, there is a range of templates that can be customised to meet individual businesses' branding needs. It also allows both physical and digital items to be sold at the online store. One of the main ideas of Shopify is that users without any technical or design skills can create a store themselves since there is no need for resorting to coding.

However, you are allowed to edit the HTML and CSS of your website as well. Hence, people with coding skills will be able to customize their stores more extensively using this platform. Shopify follows the SaaS (software as a service) tool, which means that you don't own a copy of this software. You are only allowed to access it by paying a monthly subscription. You can launch or manage your website from anywhere in the world if you access to a web browser and the internet.
WordPress:
Unlike Shopify, WordPress has two different versions available. These are- Hosted WordPress and Self-Hosted WordPress. The hosted one is similar to Shopify. It is a software as a service (SaaS) tool. You need to pay a monthly fee to get access to a broad range of features that enable you to build and maintain a website.

The second one, Self-Hosted WordPress, is a software that you can download from wordpress.org and then install on your web server. It is open-source, which means that the code behind it is freely available and may be easily tweaked. You can install WordPress on your server for free, but there are hosting costs, domain registration charges and development costs applicable.
In this tug of war between Shopify and WordPress, we have already understood what these platforms are and how you can use them. Now, let us have a quick glance at the features.
Some of the features Shopify offers are:
unlimited products

unlimited bandwidth and online storage

Shopify point of sale

Gift cards

online sales channels

fraud analysis

manual order creation

discount codes
Some of the features WordPress offers are:
Simplicity

Flexibility

Publish with ease

Publishing tools

User management

Media management

Full standards compliance

Easy theme system
Now that we have analyzed both the platforms, we can recommend WordPress to all users as it is more flexible in terms of accessibility. You can hire a WordPress development company for your business app and below are the reasons.
Reasons for Choosing WordPress:
1. The software is open source and can be downloaded.

2. You can build any type of site with WordPress.

3. There is a much wider range of templates is available in WordPress than in Shopify.

4. WordPress comes with a more sophisticated content management system which, unlike Shopify, facilitates content versioning and archiving.

5. There is a vast range of plugins, both paid-for and free.

6. You have a greater range of options when it comes to e-commerce in WordPress than in Shopify.

7. The number of variants and product options you can use in Shopify is a bit limited and many of the WordPress options give you more flexibility on that front.

8. SEO features in WordPress are better than the Shopify equivalents.

9. On a WordPress site, you have more control over your content whereas, with Shopify, you'll have to adhere to policies.

Are you looking for a web or app development company for your business? If yes, then you can feel free to get in touch with us. We, Idiosys Technologies, are one of the most eminent web and development companies across the nation. We provide app development service and marketing solutions to a huge number of multi-national and start-up companies from India, Canada, the USA, Germany, Australia, Brazil, the UK and Panama. You can hire WordPress developer from our company to build modern and high-end apps for your business.


YOU MAY ALSO READ
WHY SHOULD YOU CHOOSE LARAVEL FOR FASTER WEB-BASED APPS IN 2022?
HOW TO MAKE RESPONSIVE E-COMMERCE FRONT END BY BOOTSTRAP