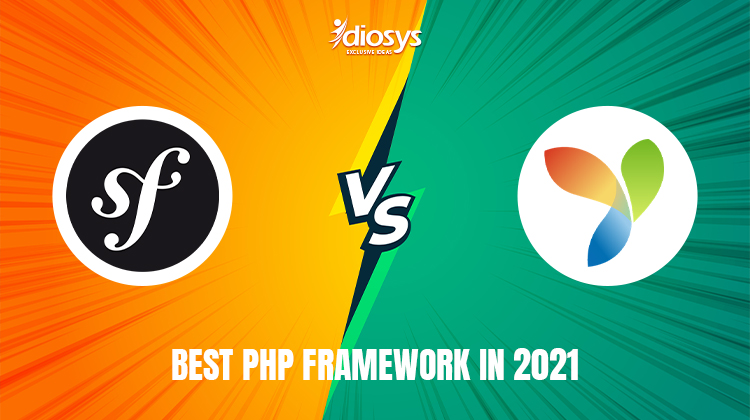 26 Feb,&nbsp2021
While developing apps, this is the most evident question among developers across the globe. Moreover, developers who are aiming for the best and prominent PHP framework to make their work easy are prone to choosing the wrong one for specific complex applications. You need not worry as here we will show you how to choose the best PHP framework for your specific needs. Since Yii and Symfony are the two most prominent names, we will go through a thorough analysis of these two. We will also throw some light on the pros and cons of these two PHP frameworks to know which one is better. So, before you hire a Symfony or Yii development company, read this post and make your own opinion strong.
We are analyzing Yii and Symfony on the basis of five aspects. These are:
Templating system

Installation Process

Framework Selection

Performance

Development Pattern
Templating System: All the PHP development frameworks use some templating system. However, there is a predefined templating system followed by Symfony and other frameworks PHP frameworks whereas there is no such predefined templating system followed by Yii. Symfony uses Twig templating system which makes code really easy and clean. The advantage of using Yii is that it doesn't depend on any third party to get the templating system as it all depends on the developers how they build the templating system. It is more flexible than Symfony in terms of the templating system.

Installation Process: During the installation process of the PHP frameworks, there are some restrictions as well as freedom. Symfony composer plays an important role as it has the best handling of the components. Yii offers you a fundamental template and a website page after the complete installation. Overall, both Yii and Symfony Yii have the easiest installation that can save your time and energy.

Framework Selection: With Symfony, there is a benefit of using 30 components together in a specified project in an easy manner. On the other hand, Yii supports the MVC framework, which makes it apt for building high-end e-commerce apps. Both Symfony and Yii shows some modular approach, but Symfony is not that much effective for reducing the complexity of app development. Hence, Yii can be your ultimate solution in this regard.

Performance: The performance of any of the PHP framework depends upon the utilization of the internet network. The experienced developers agree to the fact that Yii is the best PHP framework in terms of performance. In fact, Yii is used for creating applications that can give better performance. You can hire Yii developer for creating a faster and smoother business application.

Development Pattern: All developers want to launch their apps as soon as possible. Hence, they opt for the latest level of each framework they are working with. Symfony is no doubt a superior one when compared to other frameworks. Again, Yii is the best among others as it takes the performance of the web application to the next level and offers code scaffolding for great programming and application development.
Above are some ways in which you can choose the most suitable PHP framework for your specific needs. Both Yii and Symfony stand out to be the most popular and sorted frameworks. However, we recommend you hire Yii developer for your business app since it is one step higher than Symfony based on our analysis.
If you are looking for a web and app development company for your business, look no further than us. We at Idiosys Technologies provide top-notch app and web development services at an affordable budget. We are a well recognized Symfony and Yii development company providing high-tech apps within a faster time. So, what are you waiting for? Go ahead and avail of our services right away by contacting us.

Ref. site built with this technology: Pharma Oasis is built with Yii2 latest framework, Its very renewed online pharmacy in UK for selling authenticated medicine.