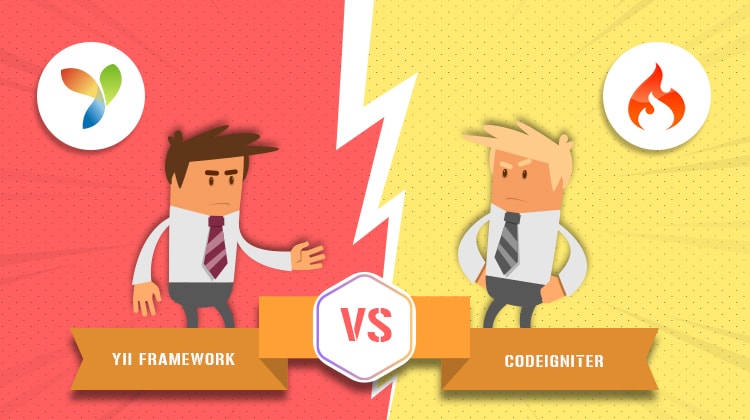 12 Mar,&nbsp2019
Today, PHP frameworks have made turned overall experience of web development into a superior one. If you plan to create a new website for your business, the developer is surely going to suggest a suitable PHP framework for the project. While saving your time, resources and effort, the PHP frameworks have been proven to save your budget effectively. So, explore the different features of these frameworks to come up with a better solution for your business.
Generating a large and complex website in the easiest way is now possible with the help of these PHP frameworks. Among the most popular and most effective PHP frameworks worldwide, Yii and Codeigniter are the names that have gained huge acclamation in 2019. This article goes on to show you the best framework between Yii and Codeigniter for your specific project. Read on to know the salient features, various pros and cons of these two frameworks.
Yii vs. Codeigniter: No doubt Yii and Codeigniter are the superior ones among the widely used PHP frameworks. Besides being well acclaimed by the big enterprises, these frameworks are also being used by the startups these days, thanks to the budget-friendly packages that they offer. Though these two frameworks share some similar basic features, the differences make each a unique platform to serve any particular project. A comparative analysis between these two frameworks can be helpful to opt for the most suitable one for your own project.
Yii Framework: Naming itself as the abbreviation of 'Yes it is!', the Yii framework perfectly does what it claims. This PHP framework is dedicated to make your web development process a smoother one. Yii is one of the oldest frameworks launched in 2008. Since its inception, the framework has been leading in creating superior apps, be it a simple one or a complex one. In this span of 11 years, the Yii framework has gone through several modification processes and the latest updated version Yii 2.0 is one of the most advanced PHP frameworks, when compared to the others. The code generation tool Gii is one of the reasons of Yii 2.0's huge success. Modern web development has become smoother and faster with the code generation tool of Yii 2.0.
Apart from Gii, some power-packed features that Yii 2.0 comes with are best security codes, superior flexibility, easy installation, short rapid development time to name a few. Yii 2.0 is programmed with a compact configuration so as to deliver a rapid development process. Moreover, Yii boasts a huge community, which is highly active to help the developers during the web development process. For all of these, Yii 2.0 is surely going to take your web development experience to a higher level. For all those who want to know about the compatibility of Yii 2.0, the framework ensures that it is suitable for creating both commercial and creative applications. Yii offers multiple features that allow the web developer to make any experiment whenever they choose to.
Pros at a Glance:
Highly Flexible
Offers Short Rapid Development Time
Easily Installable
Perfect for developing Large, Complex Apps
Ensures Secured Websites
Cons at a Glance:
Limited Built-in Allowances
Demands Organized Planning
Hire yii Developer for your upcoming project to experience fast and secured web development. Customized Yii development is now possible with the advancement of web development services. We offer Yii development services to our reputed clients across the globe, which can be planned and chosen according to their own need and budget.
Codeigniter Framework: Known for its extreme light weight, Codeigniter is an advanced PHP framework that offers dynamic website development. Codeigniter is also one of the oldest PHP frameworks, first introduced in the year 2006. The strategic structure of Codeigniter makes this framework a simple one that allows simplified coding. It is built with MVC architecture, which is an added benefit of using this framework. The configuration of Codeigniter is not a complex one and the beginners can easily operate this even in the initial days.
Codeigniter is the most popular among the developers across the globe for its prebuilt modules and real fast performance. To help out the developers, Codeigniter has a large community that is active to assist at any moment. Some of the salient features that Codeigniter is configured with are MIT license, MVC architecture, security tools, coding library, huge PDO support, organized database drivers to name a few. Codeigniter is appropriate for creating high end secured websites.
Pros at a Glance:
MVC architecture
Superior Error Handling
Simplified Coding
Excellent Documentation
Huge PDO support
Organized Database Drivers
Cons at a Glance:
No inbuilt ORM
Not appropriate for very high-level security apps
Hire Codeigniter Developer for your next project for a fast and high end web developing experience. You can easily plan for Codeigniter Outsourcing as there are many reputed companies that provide excellent Codeigniter Development service. To know more about the PHP frameworks or the over-all web development services in detail, contact us.
Hire PHP Developer today if you are planning to create an application or a website for your business. We offer Codeigniter development services to our reputed clients across the globe, which can planned and chosen according to their own need and budget.
YOU MAY ALSO READ
TOP 8 PHP FRAMEWORK FOR YOUR PROJECT
WHY YOU NEED OFFSHORE SOFTWARE DEVELOPMENT PARTNER IN 2019