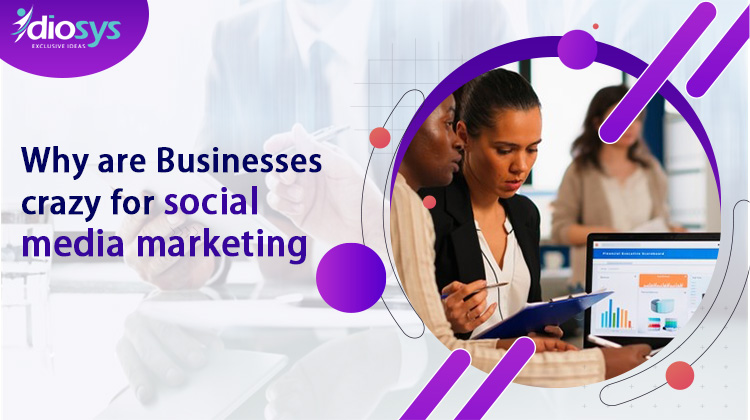 29 Oct,&nbsp2021
Today, over 3.6 billion people worldwide have their accounts on some social media. There is no chance of a decrease in the number and instead, it is expected to rise up to 4.41 billion by the end of 2025. If you are a business owner who is looking for an online presence anytime soon, social media marketing is inevitable for you. If your business already has an online presence, social media marketing can give you immediate success. So, just go ahead and hire the best social media marketing company in India to use your marketing strategies to the fullest.
Businesses worldwide today are crazy about social media marketing for more than one reason. They want to reach out to their target customers in a more effective way using social media as most of their target customers are on social media. The social media channels help them to attract the right audience by showcasing their brand features.
If you are wondering why businesses prefer social media marketing over the other forms of marketing, here you go. We will explain all the reasons to you one by one. But before that, let us explain what social media marketing is all about.
What is Social Media Marketing?
Social media marketing is an essential part of online marketing, which helps businesses to market their brands, services and products on social media. To practice social media marketing, businesses have to create a social media page or account. It is the page or account via which they connect to the social media users, who could be their existing or potential customers.
Social media marketing services are provided by either a digital marketing company that offers a full-stack service or a social media marketing company that solely specializes in it. This service is also provided by freelance social media marketers, who are skilled and experienced in it. Hence, you need to partner with a social media or digital marketing service provider to avail of this service.
Why are Businesses crazy about social media marketing?
1. Telling Brand Story: Every brand has some unique story to tell to its customers. While the About Us section in business websites contains such brand stories, it is overlooked by a lot of people who land on their sites. In contrast, social media helps businesses to promote their stories via posts and ads, which the audiences read easily.
2. Grow the Audience: Social media channels allow businesses to tell their brand story to a larger number of audiences. Facebook and Instagram are preferred for most consumer brands for interacting with a wide number of people while the B2B businesses prefer LinkedIn and Twitter more to connect to their potential clients.
3. Learn about Competitors: Knowing your competitor better will help you to overperform and beat them easily. Most businesses keep a social media page to monitor the activities of their competitors. After analyzing the competitor brand's profile, they understand which part of their activities they need to improve and rectify.
4. Build Custom Audiences: Apart from analyzing the activities of the competitors, social media also helps businesses to track the activities of their audiences. It helps them to know the likes and dislikes of the audiences better. Based on the analysis, they can create new business strategies that will cater to the needs of the audiences.
5. Learn Buying Pattern: Every brand has a set of potential customers. Now, to know their buying pattern, social media platforms can play a crucial role. As social media helps businesses to know what interests their customers the most, it helps them to create content that's suitable for those audiences.
6. Increase ROI: Businesses would want to increase their return on investment no matter which industry they belong to. The cost of social media advertising is quite nominal when compared to other forms of digital advertising. Hence, social media marketing has become one of the cost-effective ways to increase ROI.
7. Build Relationships: There is a set of customers that is constant. Brands always strive to build a relationship with those faithful consumers and continue that relationship with the help of new strategies. Social media marketing makes it possible for them to make the customers feel more privileged.
8. Promote Products and Services: There are numerous ways to promote one's products and services. Days are gone when only banner ads dominated product promotions as today, digital marketing has made it almost obsolete in some countries. Social media channels give brands an opportunity to highlight the newly launched products and services.
9. Increase Brand Awareness: To attract more audiences, it is important to make a brand popular. Social media channels like Facebook, YouTube and others have become a significant part of the brand promotion for brands because these platforms help them to create visually appealing content that is cost-effective.
10. Reliable Marketing Strategy: People prefer transparency in every aspect of life and hence, they trust the brands more who have a presence on any social media. The customers can give their positive and negative feedbacks easily on social media. As a result, they themselves acclaim social media marketing as the best online marketing strategy.
If you are looking for a well-established social media management and marketing company to partner with, look no further than us. We, Idiosys Technologies, are one of the most eminent digital marketing companies providing a plethora of services including social media management and social media marketing. We basically provide web development, app development and marketing solutions to a huge number of multi-national and start-up companies from India, Canada, the USA, Germany, Australia, Brazil, the UK and Panama. Our expertise and long experience in the industry has made us the best social media marketing company in India. You can hire the most efficient social media managing team and social media marketing experts from our company to boost your brand name and sales massively. So, why wait anymore? Contact us today to know the best deals we can offer you.
YOU MAY ALSO READ
10 TIPS HOW TO USE INSTAGRAM LIVE TO ENGAGE YOUR FOLLOWERS