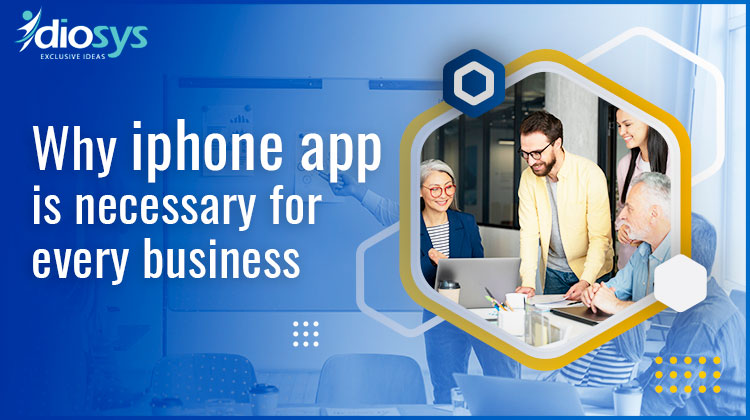 14 Oct,&nbsp2021
As a business owner, you need to invest in the right tools and technology to improve your business online. However, you should know why you have to invest in something and what you will gain at the end of the day. Without knowing the purpose, you won't be able to get the best out of any sort of investment. And so, as an iPhone app development company, we have come to tell you why the iPhone app is necessary for your business and what are the benefits you should expect from it in the long run.
Be it a small-scale startup of a fully established brand, iPhone development has become crucial for every business in every niche that is planning for an online presence anytime soon. Without iPhone app development, it will be impossible to interact with the number of iPhone users, who may turn out to be potential customers of the brand. There are lots of benefits of getting an iPhone app ready for your business, which we will now proceed to. So, without any further ado, let's explore why the iPhone app is necessary for every business.
New Audience: Since the innovation of the iOs operating system, it has received more than one billion consumers. The number of iPhone users are expected to grow rapidly in the coming years. So, if you don't have an iPhone app for your business, it means that you are still unable to reach these people. By getting on the Apple store, you will surely get a new audience for your business.
High Engagement: The native mobile apps for iPhone has become a necessity in getting an improved engagement. An iPhone app usually comes with attractive features and easy navigation tools designed exclusively for Apple users. If the iPhone users, find your app attractive and easy to navigate, you can keep them engaged with your business. It has worked for many businesses.
Brand Awareness: If you have a business brand, you would want to promote it in the best possible way. Mobile app development helps you to improve your brand awareness among mobile phone users. If you plan to build an iPhone app and dedicate it to iPhone users, your brand recognition will be higher than the present for sure. In this digital era, an iPhone app can make you popular.
More Revenue: Unless you are running an NGO or any sort of organization, your business needs more revenue in order to grow. Building an iPhone app by hiring a mobile app development company is important in getting more revenue. The Apple iPhone store can help you earn more revenue than the Google play store, which is estimated at about 95% or even higher.
Fewer Software Bugs: If you already have an Android mobile app for your business, you would know that the Google play store often wants an app update or software bugs fixation. It happens more in Android because of specific reasons. However, in iPhone mobile apps, such updates and fixations are not required as frequently. Moreover, Apple users take less time to switch to the updated versions.
Time-Saving: Whenever your brand has a fresh arrival or you have some latest news to share, an iPhone app can help you do it quickly by sharing push notifications with the users. The process is easier than any other method and it has shown great benefits to the brands. It is one of the fastest tricks to improve the conversion rates of business apps.
Low-Cost Marketing: Though investing in a new app might seem costly at the beginning, it will give you immense benefits in the long run. One of the biggest advantages of launching an iPhone app is that it helps you to maintain low-cost marketing in the future. Compared to your high-maintenance social media ads, in-app features like push notifications will help you reduce the budget.
Product Launches: We have already explained how you can launch your new products to the market and let people know via the push notifications of your iPhone app. So, if you are planning to launch new products or services and looking for the right marketing strategies, we would recommend you invest in an iPhone app or a new mobile app that's integrated with push notifications.
Now that you know why every business needs an iPhone app, go ahead and feel free to get in touch with us. We, Idiosys Technologies, are a well-established iPhone app development company providing the latest solutions to both startups and big enterprises. If you are searching for a reliable mobile app development company that comprises skilled and experienced professionals to provide you with a full-scale service, look no further than us.
We are one of the most eminent names when it comes to choosing the best web and app development services in India. We provide top-notch services to a huge number of clients from India, Canada, the USA, Germany, Australia, Brazil, the UK and Panama. With several years of experience in the field, we are now one of the most reputed software development companies across the nation. You can hire our best team of iPhone app experts to execute some of the best strategies for your business iPhone app development. So, why wait anymore? Feel free to get in touch with us today to know the best deals for you.
YOU MAY ALSO READ
TOP 10 WAYS TO OPTIMIZE AND REDUCE THE SIZE OF ANDROID APP

FLUTTER VS REACT NATIVE FIND THE BEST ONE