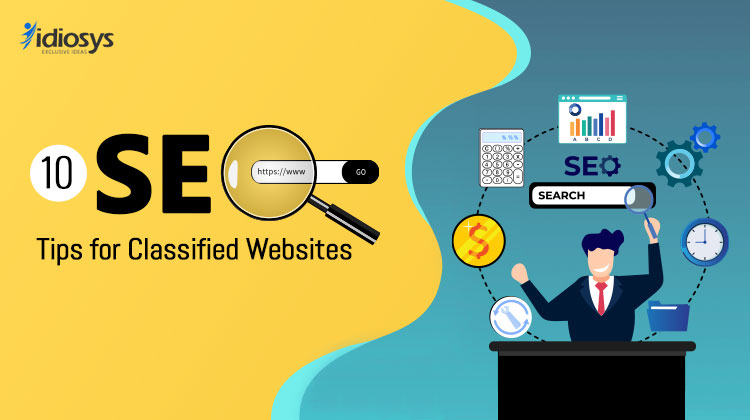 24 Mar,&nbsp2023
If you're owning or are about to build a classified website, you need to prioritize SEO. Irrespective of the size and strength of your company, SEO is a must to get a sufficient number of leads to your website. With the help of the best SEO strategies, your page is going to be indexed in the right way. This is the reason why many classified website companies hire SEO expert to make their sites highly scalable. Here, we are going to share our insights on the role of SEO to improve the scalability of classified websites. So, scroll down to know all about SEO and classified sites in detail.
1. Use Creative Content: Every company has its specific missions, visions and goals. And so, these things need to be highlighted with quality content. But, content is not only important for your business promotion but also for SEO. To apply the best SEO strategies, you need to use creative content that tells your audience precisely who you are, what you do and how you do it. It will create a bigger impact on your potential customers and keep them on your site for longer. Also, you need to use relevant keywords to optimize the content for search engine result pages.
2. Make Images Optimized: Studies show how images can create a positive impact on website visitors and attract a huge number of them. But, did you know that you can also use your images to generate new leads to your website way before they know you exist? Well, you can do the same by optimizing your website images in various ways. You need to compress the images first to reduce loading time and then upload them with relevant names. ALT tags are also important for image optimization, which you need to ensure. Mobile responsive images are a must.
3. Create Header Tags: Your classified website needs to have header tags to become SEO-friendly. Header tags or HTML tags play crucial roles in making your website look organized and meaningful. And so, you need to ensure these tags in the best possible way. Generally, you'll find 5-6 header tags such as H1, H2, H3, H4, H5, and H6. H1, the headline or title tag, is the most essential one of all. Most website articles or blogs have H1-H4 tags and if needed H5 and H6 are also included. You can also incorporate keywords with these tags to get the best results.
4. Meta Descriptions and Titles: Next, you need to include meta descriptions and titles while developing your website. Meta Descriptions are descriptive one or two-liners about your website pages that the readers will be able to see as your webpage link appears in the search engine pages. Titles are the main headings of web pages, which needs to be attractive and simple. Content and keyword play really significant roles when it comes to optimizing these meta descriptions and titles of the web pages. These are the things that you can't miss.
5. Ensure URL Keywords: If you're looking for an SEO expert in Kolkata, you can ask the expert about the role of URL keywords. In SEO, URL keywords play the most vital role in optimizing websites in SERPs (search engine result pages). For example, if you have an e-commerce apparel website and someone searches Google for "women's salwar kameez", your website will be shown by Google at the top. But, to achieve this position, you need to include the keyword 'women's salwar kameez' in your website URL and apply other SEO strategies correctly.
6. Build Sitemaps: To make any website SEO-friendly, sitemaps are essential. Your classified website also needs to include the same. Sitemap refers to a file that has all your web pages listed down. You also need to add information about the last update made and how frequently you would be changing your page info. Then, search engines such as Google, Yahoo, Bing and others will use your sitemap to know about your website and its services. While creating your sitemaps, you need to ensure that you give accurate information about all your website pages.
7. Create Backlinks: If you're wondering what backlinks are all about, let us explain. These are the links that lead to your website from other websites. To create backlinks, you need to work on your website content really well. Then only, other sites will find your content useful and would want to use your website's link on their pages. If you're planning to hire any SEO company in Kolkata, the SEO experts will be able to explain to you the role of backlinks in more detail.
8. Create Search-Engine URLs: Search engines need to index and understand your company URL easily. And so, search-engine URL is something you need to focus on. The key to creating a superior-quality URL is to keep it descriptive and yet short. If you are able to do it, search engines will be able to understand your web content better and thereby, enhance the visibility of your website in the result pages. You can discuss with your SEO expert how to create search-engine URLs.
9. Organize Your Website Data: If you want your classified website to be SEO-friendly, you need to organize your site data first. Microdata, schema.org and other structured data are available that you can use for this purpose. The main role of structured data is to make it easier for search engines to understand your company profile through the content. But, while using structured data, it's essential to find one that aligns with your business niche.
10. Ensure Google Analytics: To get huge website traffic, Google Analytics can help you a lot. It's a free tool that lets you see the number of visitors on your website and the way they are finding your site interesting. You can track the performance of your classified site through this analysis and improve it further. This performance tracking service has helped a huge number of websites to find their potential customers and keep them engaged in the right way.
The above 10 tips to improve the SEO-friendliness of your classified website are quite helpful. If you want to try them in the correct way, you need to hire SEO expert. These strategies are ever evolving and only an expert can help you make the most of them. If you're already on the lookout for an SEO company in Kolkata that provides exceptional services for classified websites at an affordable cost, you can feel free to reach us at Idiosys Technologies. To know more about our services and packages, contact us right away!
You May Also Read
SEO Tips to Generate Traffic in shopping Portal