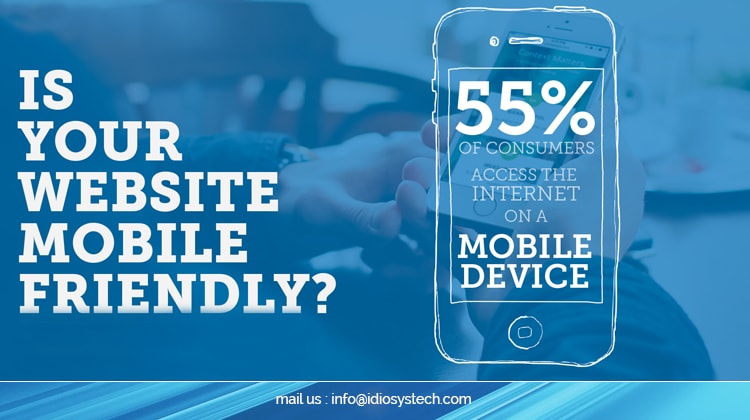 16 May,&nbsp2017
Is your web site mobile friendly? This question has a buzz in all around the world. If you are one of those who have no idea how to make your site Mobile friendly then this piece of content will surely help you to know the worth of having Mobile-Friendly website for your business.
Recent surveys have proved that more over 65% of web users browse websites through tablets or mobile phones. Reason is why majority of websites are concentrating building mobile friendly and responsive website design. It is not only the necessity of having mobile friendly website but also the big priority. If you are one of those who is wondering how to make mobile friendly website then you can have a glance at the ways making your website Mobile Friendly on web.
1. Go with Responsive Design: Responsive web design helps your site fits well into small screens of mobiles and tablets. Your visitors can view all the content as it is on their small screened devices. It is not possible for developers to create website in different sizes. Here is the necessity of responsive website design. Responsive web design will automatically scale the screen size and fit into the screen. You can use media queries in CSS to make fix website responsive.
2. Choose Frameworks for Website Front Layout: You can use free frameworks for your website like Foundation 3 or Skeleton or Bootstrap or TukTuk. Frameworks are designed to automatically as well as rapidly scale web page to any small or large screen device. It is better to use pre built framework design rather than choosing new code.
3. Choose Simple Website Layout: If you want to make your site mobile friendly then you should go with simple web layout. Complicated and clumsy website layout becomes slow on mobile screens. Even users unable to see the content they want because of complicated and large images. So it is better to design website with simple design instead of spending huge in complex design.
4. Keep javascript, CSS or Image Files Unblocked: It true that Java system is not flawless, though it is used worldwide in wide way with CSS and Image files. These are considered as backbones of responsive and Mobile friendly websites. When you do not block javascript, CSS or Image files, your website becomes compatible all round the world. Your website will be visible to any device that people use.
5. Optimize Size of Images You Use: Choose the smallest image file size that each image will look crisp and clear on different sized mobile screens. It is important to know that bandwidth of mobile devices are small comparing to the desktops. Hence, you need to choose the right size of pictures that will take short loading time on mobile devices.
6. Try to Avoid Using Flash: Generally, mobile devices not support Flash. If your website relies on Flash then the site will not display correctly on mobile devices. Flash creates obstacle opening web pages. If you really need Flash then try those technologies that can be better replacement of Flash. Flash is not safe and good for mobile friendly website building.
7. Use Readable Font Size: Choosing the standard font size is always best option for websites. Yes, creative font looks very beautiful but it is very difficult to download new fonts every time for mobile users. Therefore, it is best to choose the standard size as well as readable font in time of designing your website.
This is very important to keep in mind that most of the Smart phones are tall and narrow. Hence, you need to take care of the width of your site content that the content can be easily visible on any small screened mobile devices. If you still have problem making your website design mobile friendly then you contact for professionals.
YOU MAY ALSO READ :
MAGENTO: POPULAR E-COMMERCE PLATFORMS
CARDS LAYOUT IS THE LATEST TRENDS IN WEB DESIGN?
BENEFIT OF USING A CONTENT MANAGEMENT SYSTEM