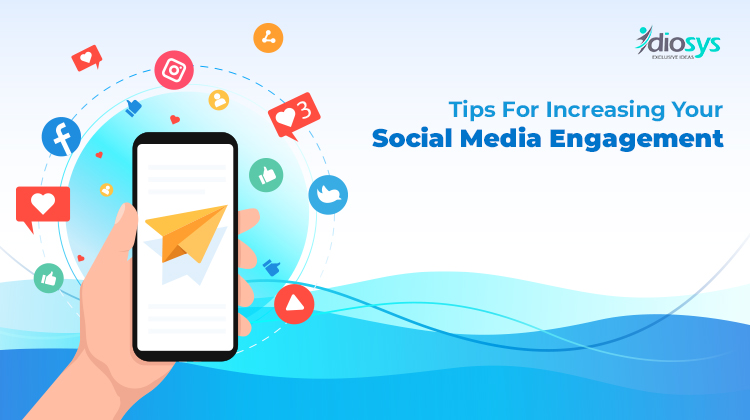 28 Apr,&nbsp2020
Social media marketing is all about reaching out to the vast users of the internet through multiple strategies. Be it a small start-up, a mid-scale business, or a big enterprise, the main purpose of engaging in social media is to promote brand awareness and increase sales via catchy advertisement. From the global viewers, some are the potential customers and it is the target of a social media advertisement to reach out to them. Also, your existing customers are looking for what you have in store for them. They are also looking for a term of loyalty from you towards them and social media can be a great platform for showcasing all of these effortlessly and effectively. Here, we will explain to you the various ways of improving your social media presence. Read on to know the eight tips to increase your consumer engagement on social media, as our experts suggest.
1. Creative Content: The main element of any advertisement is the content you show. Content can be of any form, ranging from word to music or video. Today, video advertisements are known to be the most attractive among every other form. However, you need to understand your target viewers and accordingly set your content for social advertisement.

2. Headlines: Just like the newspaper we read in the morning, your ad needs to include a smart and quirky headline that gives your viewers that punch line. Surveys suggest that eight of every ten people read only the headline of the news and this fact justifies the requirement of a catchy headline in all your ads.

3. Visual Aids: As we have already discussed, the best format of advertisement today is perhaps the audiovisual ones. Today, the audiences are keener on having a glance of the things you want to display and there are many strategies of the same. Animation ads are quite popular among global audiences today.

4. Quality Over Quantity: This one is the most crucial as it sums up the main criterion of your content. Your viewers are looking for crisp, brief content that is simple to understand. No need for creating a mammoth-sized video ad or an article with flurry language. Use smart ways that can engage your audience instantly.

5. Humour: Adding a touch of humour to your advertisement will take you one step ahead in the competition. Applying humour wisely is also your responsibility as you might end up offending a set of viewers as well. You can hire social media expert to create reliable advertisements for your audiences.

6. Hashtags: This one is another crucial element for social media networks like Instagram, Twitter and Facebook. Be it a paid marketing or not, there is always a better scope when you add hashtags to all your ads. Many social campaigns are gaining immediate response for the useful hashtags they are using.

7. Consistency: Any kind of engagement requires consistency to sustain in this world of endless competition. If you are willing to make a real mark in the world, you need to be consistent. Creating social media ads on a regular basis is a strategy that will make a positive impact on your global audiences.

8. Curation: We all know that originality is the best but somehow it is not possible always and therefore, content curators will help you. You need to know your target audience and then only you can alternate your original content with the curated ones, of course with attribution.

Above are the eight tips that can let you improve your consumer engagement on social media. To know more about the same, feel free to get in touch with us. We, Idiosys Technologies, are one of the most trusted digital marketing companies for a long time. Headquartered in India, we have a branch in the UK providing web development, app development, business development, digital marketing, advertising, and a lot more professional services to our clients from every part of the world. As per our client feedback, we are the best social media marketing company they have partnered with. It is the recognition of our esteemed clients that keep us improving our services each day. To know about our services and packages or to hire us for your business goals, feel free to contact us today!
YOU MAY ALSO READ
BOOST YOUR BUSINESS USING ADVANCED SOCIAL MEDIA MARKETING