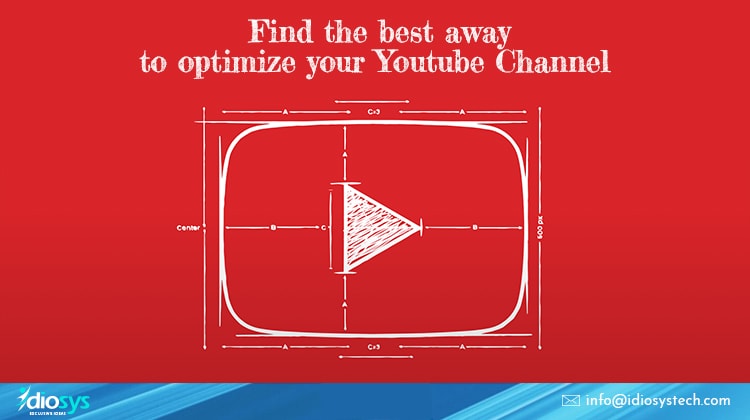 24 Sep,&nbsp2018
Launched only a decade ago, YouTube has taken the position of the second largest search engine. It is a galaxy where millions of audio visuals are stored, shared, watched and promoted every day. YouTube makes a perfect option for showing advertisements, product demonstrations and other interactive videos for all the big companies as well as the start ups. The best part of a YouTube presence is that the audience from every part of the world will be able to watch and follow your videos.
If you have your company website and looking for the best way to optimize it via social media platforms, here you go! Just like any other online marketing techniques, video marketing is a great way of advertisement and YouTube is the best platform for this. Besides opening a YouTube profile, proper application of the SEO strategies will help you to gain more web traffic and increase sales to a great extent.
If you are planning to introduce your company to YouTube, here are the simple steps explained. The optimization tricks are also shared for an overall outstanding performance.
1. YouTube Channel: The home page of your profile on YouTube is called the YouTube channel. It is the platform where you can upload your own videos and store them in a playlist. The channel is visible to the other users and subscribers. Hence, it needs to look unique and impressive to all. Choosing a decent profile picture and writing a description about your company are the important steps that you cannot miss out. The cover photo and channel art are also important elements to add to the charm of your channel. The next important step is uploading a channel trailer.
2. Playlist: Here you can manage all your videos in the most organized way. YouTube lets you make different playlists by offering you multiple categories to choose from. For instance, you can showcase the playlist including your best videos on top of your playlist sections. This will increase your popularity among the new listeners for sure.
3. Uploading Techniques: Once you have successfully created your channel, the next step would be uploading videos. The optimization strategies are very important while uploading the videos.
To upload a video, firstly, you need to give a caption or title of the video, which needs to be catchy and mostly searched by the users. You can take the help of Google AdWords and Keyword Planner to choose the highest ranked title.
Next, you need to write a description of the video, which is optional. Tagging is another field where you can put all the relevant keywords. The best keywords usually contain two to three words. You can upload as many keywords as you want by taking the help of Google Trends, which will let you find out the most trending topics.
4. Optimization Strategies: New strategies are discovered and applied everyday on YouTube and here we share some of the tricky tricks for optimizing your YouTube channel.
If you want to increase your brand awareness among the viewers with every video you upload, add the name of your brand at the end of each video title.
Just like the video keywords, channel keywords are mandatory. While you create your channel, a field titled Channel Keyword will appear. You need to add well researched keywords, which will increase the visibility of your channel on YouTube.
An organized channel always looks attractive to the viewer. Hence, creating separate playlists and maintaining them is crucial.
Content management is important in creating a YouTube profile. It not only provides information but also increases the visibility of your profile on YouTube. The content needs to be more interactive so that the viewer becomes interested in following your channel.
The content is your voice and it has to be very crisp. Providing unnecessary information needs to be avoided while writing video or channel descriptions.
The viewers are allowed to comment on the videos they see on YouTube. If anyone praises, enquires or complains about your video on the comment section, you need to revert immediately by thanking, explaining or guiding them.
Consistency is required to maintain the YouTube channel. Uploading and sharing the videos on a regular basis will help the page to gain more subscribers.
Though it might seem an easy task to manage your YouTube channel on your own, there are N numbers of parameters that only the SEO experts know. Consulting a digital marketing service provider will always help you in a proper video optimization. Feel free to contact us for the best SEO, digital marketing and social networking service.
YOU MAY ALSO READ :
IONIC OR REACT NATIVE: WHICH IS THE BEST FOR CROSS PLATFORM APP?
NEED TO KNOW ABOUT SOME FEATURES OF LATEST OS- OREO