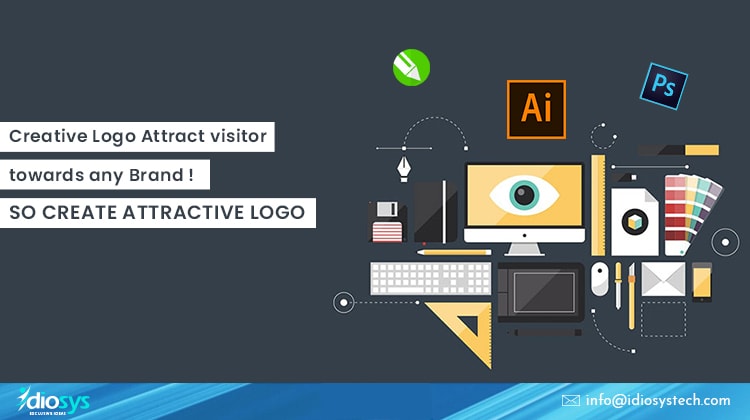 03 Dec,&nbsp2018
To begin with, it is needless to say that your brand is a set of emotions, expectations, stories, memories and relationship that gradually generates immense faith of a huge number of customers for your products. When they think of sticking to your products, they start relying upon your name. All the big brands throughout the globe have a huge popularity for maintaining certain strategies to attract new customers and impress the existing ones. When responsibility is higher, setting the brand identity seems a little complicated and here we can help you by simplifying the whole concept with this article, which describes the importance of brand logo design, suggests the most creative logo design ideas and focuses on the over-all logo design service provided by the professionals.
A logo is the face of any company or brand. Hence, designing a creative logo has been one of the most crucial business strategies of all time. A logo can set the brand value as well as can break it if it looks too complicated at the very first glance. There are certain aspects that need to be maintained while designing a creative logo for any brand. Every logo design company all over the world is creating the finest logos by following and maintaining all these technical aspects.
Simple and Compact: The purpose of a brand logo is to let people know the company name and understand the company profile. By representing the business, a logo symbolically creates a visual memory that stays in the viewers mind. Hence, a logo must be simple and attractive so that the viewers can understand the meaning that it symbolizes within fractions of a second at just one glance. Portraying the company profile in a small visual image is indeed a difficult task, which is successful when the logo looks not only simple, but compact.
Brand Vision: Envisioning the company profile through an image with minimum use of text is the work of the best logo designer. Different companies serve different purposes and the logo needs to represent its exclusive purpose in a simplified way. For instance, a wedding photography company would prefer fanciful logo whereas any fitness studio will opt for bold fonts and design. Also, most of the well known companies try to feature their colour theme in their logo.
Target Audience: As one of the most important marketing strategies, logo design attracts its potential audiences through a visual representation of the brand name. Therefore, while designing the logo, one needs to know well about the target audiences. Based on the target audiences, the logo of a clothing brand will vary from a newspaper company.
Both Aesthetic and Technical: No doubt any kind of design or creation requires an aesthetic skill. But, would you like a brand logo if it's too complicated to comprehend and yet aesthetically pleasing? Such kind of design would make no sense at all. Hence, logo design consist multiple parameters or checklists based on its technical specifications. The best logo design company will always adhere to these technical specifications while designing the logo for their client.
Food brands like Coca Cola and Mc Donalds have simple logos that are timeless. Whenever we think of these brands, the logos come to our mind. This is the main purpose of a logo and the points discussed above are the parameters leading to the designer achieve exactly what you want in your logo design. As one of the most eminent companies providing avant-garde logo design service in Kolkata, we take pleasure in designing brand logo besides various kinds of online and offline marketing services. Contact us today for our exclusive logo design service.
YOU MAY ALSO READ :
REDESIGN YOUR BUSINESS LOGO AND MAKE AN IMPACT TO YOUR AUDIENCE
TOP 8 THINGS THAT SHOULD DESCRIBE YOUR LOGO?